Talented bakers, incredibly difficult challenges and mind-blowing cakes. Throw in a dash of drama and a few tablespoons of snarky, witty and downright funny comments and you have the show Next Great Baker. In case you missed it, last week was the season premiere of the baking competition on TLC. I'll admit, not being a huge TV watcher I had never seen the show before. But when I received the news that my friend Don Donneruno (aka "The Cake Don") was going to be one-half of a team on the show, I put the reoccurring date in my calendar and excitedly waited for the night to arrive. The episode began with a mini challenge to concoct a dessert that was representative of their hometown (resulting in Don declaring that he "forgave the French guy for not getting the idea behind a Zeppole" – yep, I'm definitely going to enjoy this show!) It is now the second week, and thankfully Don and his partner Meredith Gulfman survived the first round.
I snagged a few moments from the busy pair to ask them about the show, baking, and of course, tea (make sure to check out the recipe they shared with me at the end of the interview!)
TDT – How did you find out about the opportunity to try out for Next Great Baker?
Don – I'm a huge fan of the show, and when I heard online that season 4 was going to be teams of 2 I knew it was for us.
TDT – What was it like being on the set of a TV show?
Don – I had pictured being on this show so many times in my head that it felt so natural, like we were supposed to be there.
Meredith – It was a surreal experience being on the set, but the most fun ever.
TDT – Cake Boss Buddy Valastro – was it intimidating working with such a well-known baker?
Meredith – The Judgment segments were so stressful. It's The Cake Boss right there in front of you critiquing your work…
Don – It was not intimidating for me. We were allowed to go inside the Cake Mecca and see how it lives and breathes, which was truly an honor that I will never forget.
TDT – What 3 adjectives best describe Buddy?
Meredith – Knowledgeable, confident, dedicated
Don – Demanding, focused, relentless
TDT – What was the most important lesson you learned while shooting the show?
Meredith – It's ok to not always be in control.
Don – I learned that the decision to chase the dream of being able to make cakes for a living was, without question, the right path for me.
TDT – Now, the important questions – are you a tea newbie or a seasoned tea drinker?
Don – I am a life-long iced tea lover.
Meredith – I have been drinking fresh brewed tea since I was a kid.
TDT – What is your favorite tea and when do you normally partake in the delicious beverage?
Don – My favorite tea drink is an Arnold Palmer. I used to mix my ice tea with lemonade even as a kid. It's the perfect summertime drink.
Meredith – My favorite is cold sweet tea. I always have hot tea when I'm not feeling well.
TDT – If a tea was named after you and your personality, what would it be called and what would go into it?
Don – "NYC-Tea"- It would have a green apple peanut butter flavor… now that would be a good tea!!
Meredith – "OCD-Tea"- It would have Mango and Pomegranate.
TDT – Spas are huge and can include submerging yourself in many various liquids – if you could bathe in tea, what kind would you choose?
Don – That would be the only time that I definitely would want my tea to be hot.
Meredith – I would submerse myself in green tea. (Good choice Meredith! – TDT)
TDT – Have you been recognized on the street yet by anyone who follows the show?
Don – Only at the bakery so far. People come in ask to take a picture with me or sign something. It's surreal. I'm flattered every time.
ARNOLD PALMER CUPCAKE
(compliments of Don and Meredith)
Ingredients
Cupcakes:
1 cup milk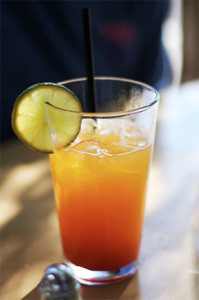 5 teabags of black tea
1 cup unsalted butter
2 cups sugar
4 large eggs
1/2 teaspoon grated lemon zest
1 teaspoon fresh lemon juice
2 1/2 cups all-purpose flour
3/4 tablespoon baking powder
3/4 teaspoon salt
Arnold Palmer Frosting:
1 cup unsalted butter, softened
2 cups confectioners' sugar, divided
1/2 cup reserved milk/tea mixture
1 teaspoon fresh lemon juice
Directions for Cupcakes:
– In a small pan, heat milk until hot to the touch. Place tea bags in milk and let steep for 15 to 20 minutes. Remove and discard tea bags. Let milk cool.
– Preheat oven to 350 degrees. Line 2 (12-cup) muffin pans with paper liners.
– In a large bowl, beat butter and sugar at medium speed. Beat in eggs. Add 1/2 cup milk and tea mixture, lemon zest and lemon juice. Mix well.
– In a medium bowl, combine flour, baking powder and salt. Gradually add dry mix into the wet ingredients.
– Spoon batter evenly into prepared muffin cups. Bake for 20 to 22 minutes, or until a wooden pick inserted in center comes out clean. Remove from pans and cool completely on wire racks. Spread or pipe Arnold Palmer Frosting evenly over cupcakes.
Directions for Arnold Palmer Frosting:
Beat butter at medium speed with until creamy. Gradually beat in confectioners' sugar alternately with tea/milk mixture slowly. Beat in lemon juice until creamy.
---
Don and Meredith are bakers at A Taste of Home Bakery, located at 1992 N. Jerusalem Rd, North Bellmore, New York. To learn more, visit www.atasteofhomeli.com