One of the most romantic movies in 2004 was The Notebook, based on the novel by Nicholas Sparks. Women everywhere dragged their (mostly unwilling) dates and significant others to the theaters to see the film.
The story follows Noah Calhoun (Ryan Gosling), a poor laborer who falls in love with a wealthy young lady, Allie Hamilton (Rachel McAdams), who is on vacation with her family in the late 1930's. Their love is tested by the strict notions of society, and her family's dislike of Noah's social status. Her parents decide to move to New York, taking her with them and shattering Noah's hope of happiness. Noah goes into a deep depression, putting all of his energy and focus into restoring a home he had always dreamed of owning. Meanwhile, Allie marries another, a soldier she tended to in a hospital during WWII, though deep down her heart will always belong to Noah. His name and photo, seen in a newspaper article, bring all her feelings for him to the surface, and she pays him a visit. It's a difficult moment for both; he desperately wants her back in his life, while she feels torn between her feelings for him and her loyalty to her husband. Finally, she listens to her heart, abandoning her wealthy lifestyle to live a life of love with Noah.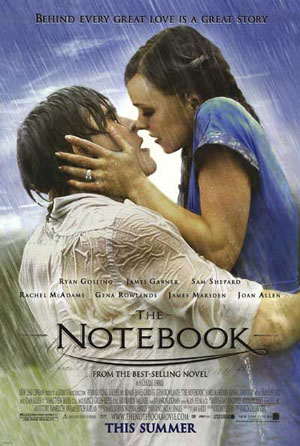 The perfect tea to enjoy while watching this movie would be something classic, such as Earl Grey. Try Harney & Sons Earl Grey Supreme, with added silver tips, for a heightened flavor profile yet lighter color of liquor. Mighty Leaf's Organic Earl Grey offers the traditional bergamot flavor you love in a very balanced organic tea. Stash Tea Company's English Breakfast Black Tea is a bright blend of Assam, Nilgiri & Ceylon.
All are perfect teas for a classic love story. Grab the tissues and get ready for a night in!