note that this article was previously published on October 14, 2014
(Scientific Name: Jasminum Officinale)
Jasmine is known for its intoxicating fragrance: a whiff of the flower brings forth a curious blend of sensuality and relaxation. A member of the olive family, these bright green leaves with delicate white blooms can be found in both vine and shrub form.
Trivia: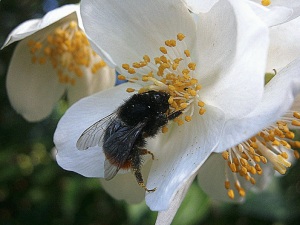 Jasmine was quickly picked up by the French perfume industry in the mid 16th century praised for its unique floral scent. It was once believed that jasmine could not be replicated artificially.
Called Yasmin in Arabic and Persian, meaning Gift from the Gods.
In a taxicab in Bangkok, Thailand, that amazing scent comes from the jasmine necklace around the car's mirror.
Beloved by many countries, jasmine is the national flower of Pakistan, Indonesia and the Philippines. Often a part of celebrations including weddings and funerals.
Ayurveda recommends jasmine oil to sooth and nourish the mind whether it's used in soap, as an essential oil or in a cup of tea.
The history of jasmine tea can be traced back centuries to the South-Song Dynasty in China (around 1240), where the petals of the flower were entwined with green tea.
The perfect flower for night owls, jasmine blooms after dusk, intoxicating the evening air with its fragrance.
One jasmine tea technique is to layer the flowers several times with green tea leaves. This time consuming process allows the tea to absorb the scent and health properties of the jasmine. The leaves are then rolled into pearls.
 Tips and Tricks:
Feeling down or anxious? Relax with a cup of jasmine tea. It's believed that the jasmine flower is a natural antidepressant.
Usually paired with green or oolong, jasmine tea offers the antioxidant benefits of green and oolong tea with the addition of an enchanting aroma.
Treat yourself with a cup of Jasmine Yin Zhen. This tea is produced by infusing delicate silver needles with jasmine petals.
Try It:
Teavana Jasmine Oolong Tea
Camellia Sinensis Royal Jasmin Organic
The Republic of Tea Jasmine Pearls Full-Leaf