(Latin Name: Cymbopogon citratus)
Native to India and parts of Asia, lemongrass is a common ingredient in Asian-inspired cuisine, enhancing soups and curries. This perennial grass adapts well to warm climates, offering an infusion of lemon flavor in both food and a cup of tea.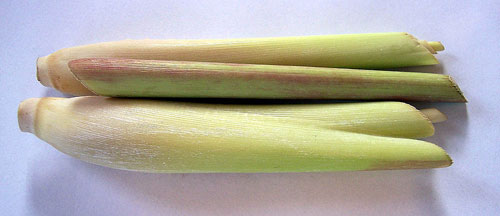 Trivia:
Lemongrass tea is claimed to help with digestion, nervousness and even high blood pressure.
Nicknamed mosquito grass, the pheromones that help produce the citronella aroma is a natural insect repellent, scaring away mosquitoes and even ants. For the largest impact, plant lemongrass along your walkway or add a few potted planters to your patio.
Can't grow your own? Make homemade insecticide from lemongrass purchased at your grocery store. Wash, slice and crush the lemongrass into a pulse and spread it onto your skin. Enjoy this citrus scented insect repellent.
Frog in your throat? Make it hop away with a soothing cup of lemongrass tea.
In the 18th and 19th century, lemongrass was a staple ingredient in the medicine cabinets of Mexicans and Spanish immigrants. It was used for a variety of ailments, from respiratory issues to an antifungal.
Ayurvedic medicine uses lemongrass to treat intestinal concerns including stomachaches, indigestion and even parasites.
Tips and Tricks:
The vitamin A naturally occurring in lemongrass is believed to help clear acne and reduce oiliness. Use the tea as a facial rinse and reap the benefits of clearer skin.
A lemongrass tisane can be made from either the fresh or dried leaves. If using fresh leaves, cut into small pieces to release the lemon flavored oil. Steep in boiling water for 10 to 15 minutes. Sweeten to taste.
Make your own lemongrass chai. Simmer dried lemongrass with black tea leaves in a pot of milk, for five to ten minutes (depending on taste). Strain, sweeten with honey and serve. For an added boost of flavor, add ginger.
Try It:
Adagio Herbal Lemon Grass
David's Tea Chai on Life
Bigelow Tea Novus Lemon Ginger Herbal Tea