The practice of carefully blending purposeful amounts of tea leaves, herbs and spices is truly an art. In order to share this passion and skill with both students and businesses, Jo Johnson launched Tea Blending Sisters. With over ten years in the tea industry, Jo is a respected tea speaker/teacher and is a certified Tea Blender and Tea Pairing Specialist. Prior to launching Tea Blending Sisters, Jo pursued tea education and is certified by the Specialty Tea Institute (USA) and International Tea Education Institute (Canada). Through Tea Blending Sisters, Jo has been able to craft signature blends for cafes and teach tea blending classes (online and in-person) to curious tea enthusiasts.  Below, Jo Johnson shares her tea blending journey, details about her classes and tea blending 101 tips (along with her recipe for Peppermint Vanilla Rooibos herbal blend).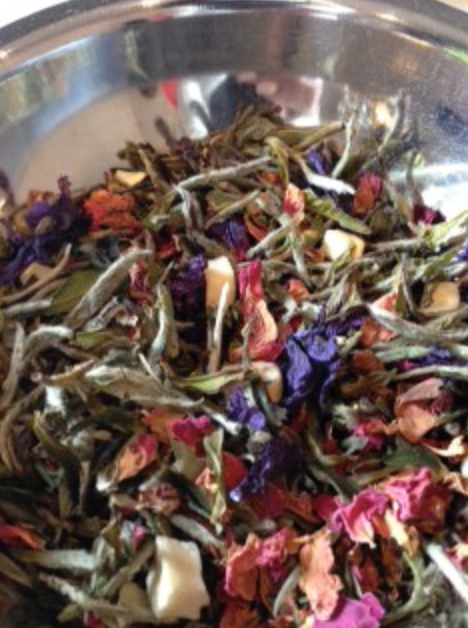 What inspired you to launch Tea Blending Sisters?
In our search for experience in blending, we had attended quite a few tea blending courses at festivals, expos and other venues. Although they covered most of the basics, there were certain questions left unanswered. We invested in blending certification and wanted to create blending experiences that were educational, flexible, and cost effective. A course that was more than an intro but less that certification.
How did you become certified in tea blending?
After much research and evaluation of the various offerings we attended one of the top schools located in Canada, ITEI. The course combined onsite instruction in addition to expert guidance from Masters in their field.
What was the first tea that you blended?
Ha Ha! Good question. I do not count any of my dabbling with blending as a first. I begin counting after I took my blending courses, so I consider my first blend "Earth Morning", a blend created as an alternative for coffee drinkers looking to transition to tea. It's a combination of Puer, Keemun & Ceylon and an "eye opener".

What was the first herbal blend that you crafted?
Rooibos, Peppermint Chai, I consider the first. We were given an assignment to create an herbal that was "well balanced in all aromas" and this was my entry.
Do you have a favorite tea blend for summer?
It's a toss-up between "Mint Julep" either the Puer or Oolong version and Rose Macaron Blanc. I created Mint Julep as an alternative for non-alcohol drinkers to enjoy during "Derby" celebrations that happen in May. It is a combination of tea aged in a bourbon barrel that takes on the scent of bourbon, with peppermint, vanilla and vanilla sugar. Rose Macaron Blanc combines Bai Mudan with a Taiwanese White Tea Rose Petals, Vanilla Bean and Rose Sugar. Though I prefer my teas without sugar both these offerings, created for the public palate and created to mimic the original recipes, are slightly sweetened.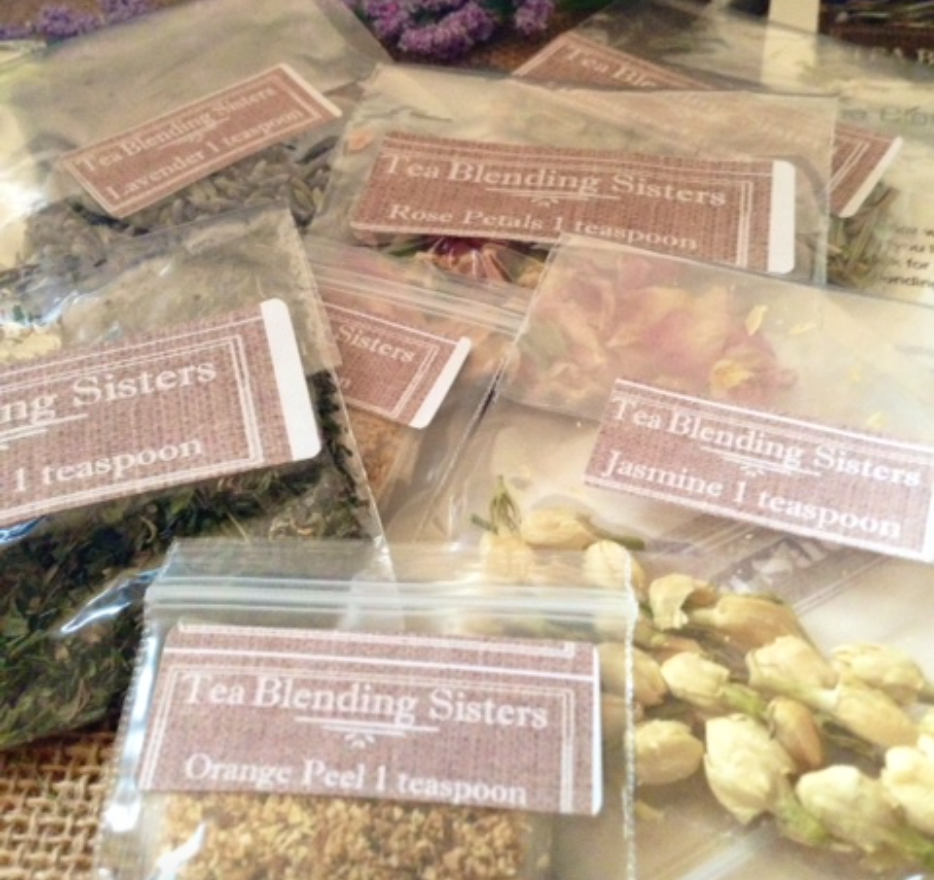 Regarding your education series, can you tell us more about your classes and onsite presentations?
Our online classes give potential blenders an opportunity to learn the basics and advanced blending. The classes are 2 hours where we instruct on the blending process and also actually create blends. They are broken up by base teas, for example Black, Green, Herbal, so if the student is only interested in herbal blending they sign up for that focus only. Based on interest we have gone on to offer Herbal Blending 101, 102 & 103 with each class the foundation herbs and additions change. The same principle applies for our single origin teas as well.
We also offer advanced courses i.e. Flavor, Tea Packaging, Tea Marketing, etc. These may change based on participant interest. Our classes are small 8 people maximum, so each person is able to interact and get their questions answered. The fun happens when we actually create the blends. The participants come up with their own blends that we make together and provide feedback on. Our onsite classes are held in our immediate tri-state area, NY, NJ, and Conn. They are held based on interest and each class can accommodate 20 people. These may be constructed for one or two days and are full day intensives.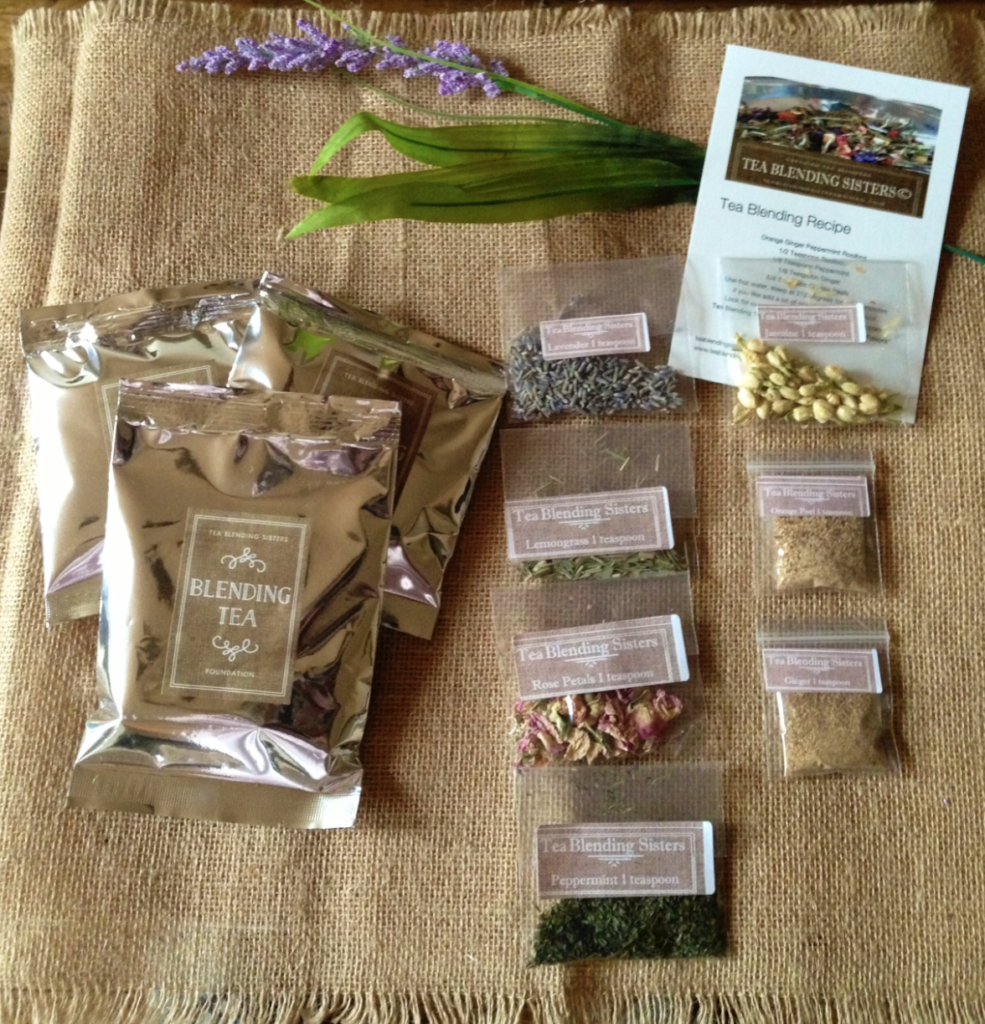 For the classes, we noticed that you offer a tea blending kit. What is included?
We offer two versions of our kits. Our starter kit contains a 3 foundation teas, 3 herbs & spices and 1 flower addition, blending bowl, professional tasting cup, measuring spoons, gloves, trial instructions and sample blending instruction, tea bags and trial bags, and a signature blend packet for storing your blend. Our follow up kit contains 3 foundation teas, 3 herbs & spices and 1 flower addition, tea bags and trial bags, and a signature blend packet for storing your blend.
What advice would you give someone who is interested in beginning his or her blending journey?
Start slowly…many of our students make investments in product without enough information to proceed. Many without experience try and then give up when their initial trials do not come out as they had planned. Blending is trial and error and sometimes many trials and errors, lol. For those who want to take product to market, there is information you need to know to avert your losing money. Taking our class helps to anticipate and address these before they begin.
For the at home blender try adding small amounts of the spices or herbs you like to the teas you drink, you may become interested in expanding your trials.
What are the top 4 pointers for tea blending 101?
Know your tea, know your ingredients.
Consider brewing temperatures when creating blends.
In a good blend you must be able to taste the tea.
When blending with herbs research for any side effects or warnings.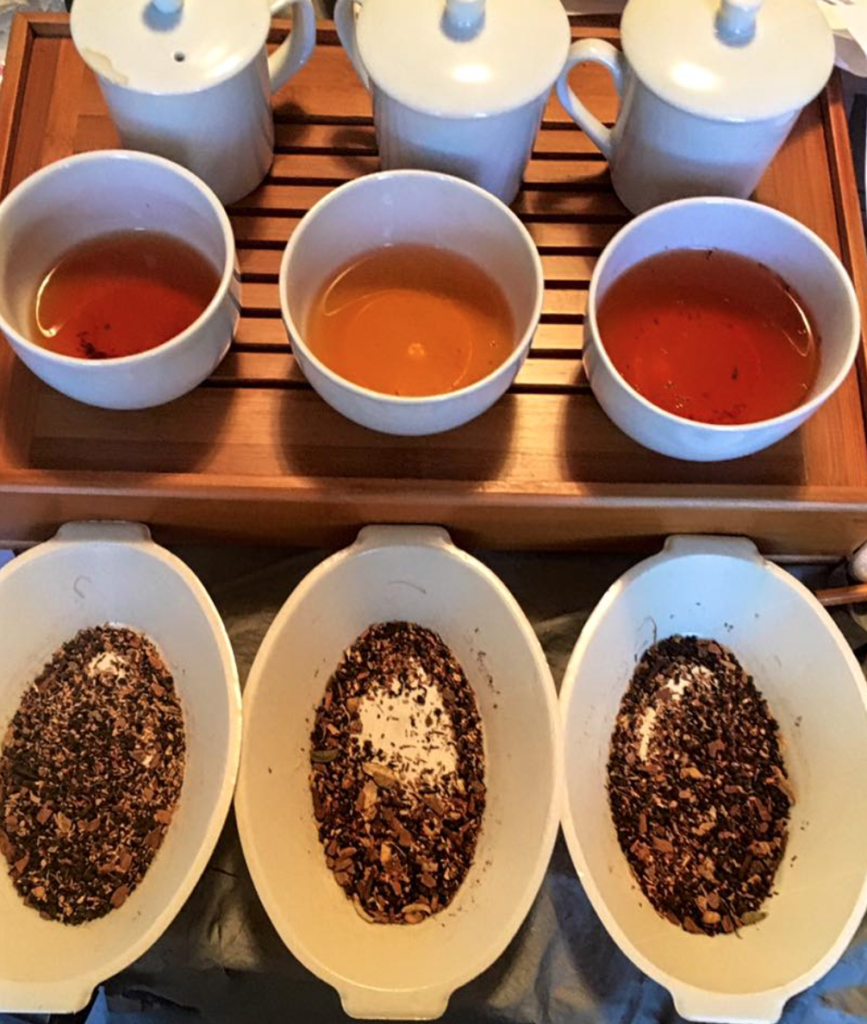 Can you tell us about a favorite moment where you developed a blend for the food/beverage industry?
One of my clients wanted to carry a Chai, the samples that she tried just didn't meet her palate preference. I created a blend she thought was great and is now one of her number one sellers. These are the moments that are truly rewarding.
What upcoming classes are you offering this summer?
Our schedule for July is up on the website and we will offer two basic blending classes both Black and Herbal and an Herbal 102 class which will focus on more advanced herbs. Our classes are scheduled bi-monthly to give everyone an opportunity to plan ahead. We also offer private blending classes as well. We encourage those interested in blending to join us, it's a great way to investigate if blending is for you before investing in serious certification.