I became entranced with Thailand over 10 years ago: a country that welcomed everyone with a smile, wonderful food, and a cup of tea. Well, not exactly. The land of smiles is known for their hospitality and cuisine; however, tea is rarely on the menu. Unless it is their heavily sweetened, and much adored Thai iced tea.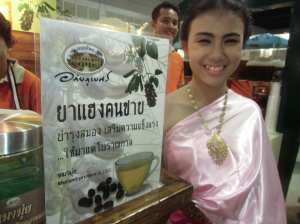 "Thailand doesn't really have a tea culture," said Thomas Kasper, Founder, Siam Teas. "Basically, most Thai people still don't drink tea." So why are we talking about Thailand on The Daily Tea? Well, in the mountainous regions of Northern Thailand, once home to fields of poppies, a new commodity is growing: tea.
How did tea come to Thailand? It can be traced back to 1961 when KMT (Chinese Nationalist Party or Kuomintang) refugees flocked to Thailand. With them they brought their culture, language and their love for tea. These KMT soldiers continued to help the Thai government fight the war against communism both within Thailand and surrounding Laos, and were awarded Thai citizenship in 1981 for their efforts.
Initially, these immigrants harvested the tea plants that had been naturally thriving in Thailand for hundreds (some claim thousands) of years for their own personal use. A bit strong for commercial consumption, the farmers continued to harvest other crops for their livelihood, the main one being opium.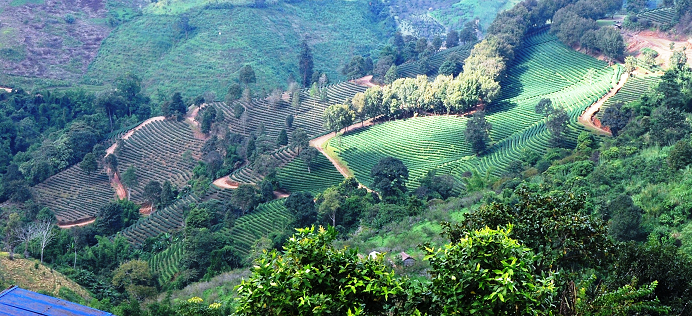 Distressed by the amount of poppies in the Golden Triangle, King Bhumibol Adulyadej sought to eradicate opium with the Royal Development Projects. Experts were brought in to investigate the land and its crop potential, "If you look at the maps it's very close to Yunnan, it has the same landscape and climate, so clearly someone must have said at some point, tea. Tea is a good idea," said Kasper.
Several tea cultivars were imported including No. 12 Taiwan Oolong cultivar, No.17 Taiwan Oolong cultivar, and Oriental beauty Dong Fang Mei Ran. From these cultivars, the commercial tea production began offering the right climate, landscape and the expertise of the nearby Taiwanese community.
"Most of the teas are grown north of Chiang Mai, around Chiang Lai. The teas appreciate the high altitudes, they are up in the mountains," said John Wombwell, Business Coordinator, Daokrajai Lanna Fine Teas. These teas are usually grown in smaller plantations with the farmers specializing in one or two types of tea.
Seeing a tea farm in Thailand has now become a fairly easy venture. Travellers can head to Chiang Mai and join one of the numerous treks. These two to five day journeys will take you right into the heart of Northern Thailand, where you will meet with some of the native hill tribes, like the Karen tribe (some which have chosen to grow tea as a cash crop).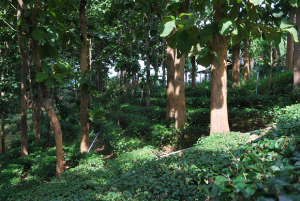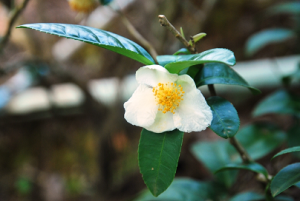 "The Taiwanese teas grown and produced in Thailand are just fantastic," said Kasper. Every tea is still manually picked, to the original standards of 2 leaves and a bud, mainly by family enterprises. One enterprise specializing in oolong tea is Thai Tea Suwirun Ltd, Jaruwan Kawee's family business. Wombwell shared that the company began with Kawee's father in the late nineteen forties.
Today it's owned by Jaruwan's mother, and run by Jaruwan and her sisters. Wombwell's family epitomizes the Thai culture, welcoming business people for food and conversation first, business later. Today the company is expanding, building additional accommodations and a canteen for their employees.


The Thai tea farmers are not afraid to experiment, whether it's infusing tea into their cuisine or trying different processing methods. "They are producing a fantastic tea, but the knowledge of roasting and especially black fully oxidized tea, is very low. But this is gradually changing," said Kasper.
Currently Siam Teas offers a black tea that is rolled similarly to the oolong styles, and when the leaves unfurl, they still have a hint of green. Some describe the tea as a dark roasted green; it's a question of definition. This year, the tea farmers in Doi Mae Salong experimented with a dark roasted oolong, something that Kasper has not seen in Taiwan, stating that it's a genuine Thai innovation.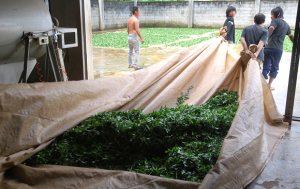 Increasing Awareness of Thai Teas
In Thailand, there is now an upper business class sector in Bangkok, mainly Chinese, who are drinking tea. Slowly the world of tea is expanding from the bagged iced tea to include their distinctive oolong, green and pu-erh teas. In October 2013, the Four Seasons Resort, Chiang Mai launched a selection of four Thai grown teas including white, green, oolong, and pu-erh, increasing awareness of the products grown in the nearby regions.
Entranced by the beauty of both the teas and the people, Wild Tea Hunter, J.T. Hunter decided that Doi Mae Salong would be the perfect location for a tea school. This year sees Hunter's dream come to fruition with the new tea school opening its doors in November. For anyone wanting to learn more about tea and Thailand at the same time, this sounds like a wonderful opportunity.
Located on a tea plantation, attendees will get to experience tea first hand with visits to plantations, producers and of course tea tastings.
"It's going to bring tea traders there, fans there, retailers, tea tasters, tea blenders and all these people are going to bring Thailand back to their place," said Kasper. "Automatically just by going to the school, they will be introduced to Thai teas." Supported by the International Tea Master's Association (ITMA), the 4 day tea Mastery course can be applied towards the 14 week ITMA Tea Mastery Certification.
Thailand's Iced Tea (Cha Yen)
For those of you craving a traditional Thai beverage, try brewing up a batch of their iced tea. This creamy orange-hued drink has been a staple in Thailand for years. Most Thai's take it to-go, simply sticking a straw into the plastic bag of iced tea.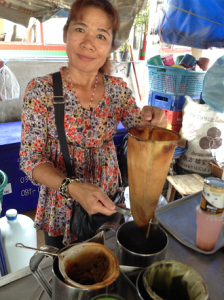 Ingredients:
Two tablespoons black tea leaves
Highly concentrated sugar water
4 cups water
¼ cup sweetened condensed milk
¾ cup of sugar
Ice
Optional: spice it up with vanilla, cardamom, star anise or cinnamon
Directions:
Soak the dried tea in the sugar water for as long as desired (30 minutes to 3 days).
Boil 4 cups of water.
Remove tea from sugar water and put into the boiling water.
Allow to steep 10 to 15 minutes to create the black tea concentrate.
While steeping, add the sugar and enhance the blend with your own mix of spices.
In a large pitcher, pour in condensed milk and ice.
Stir well.
Let Chill.
Pour in glasses or traditional plastic bag, and enjoy.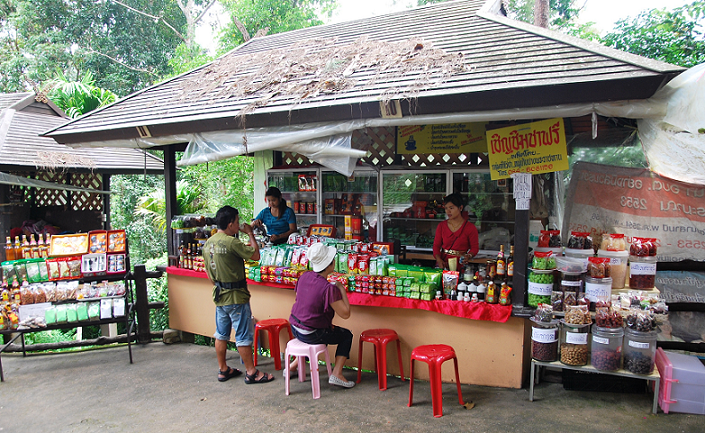 Sources:
http://www.academia.edu/424778/Development_of_the_tea_industry_in_Thailand
http://siamteas.com/2014/09/16/new-tea-mastery-school-set-to-open-in-doi-mae-salong-north-thailand/
http://teamasters.org/certification-course/thailand-itma-tea-mastery-certification-course-october-17-2014/
Interviews:
Thomas Kasper
John Wombwell