Turmeric Tea Tales, a gift set of six turmeric infusions from Vahdam Teas, has recently been named one of Oprah's favorite things for 2019.
Of course, as turmeric lovers, we had to brew a few cups for ourselves.
Our notes:
The packaging is of high quality and the tisanes are presented in glass containers with cork tops (rather than plastic).
There's definitely a call to action for kindness woven in the brand story. They say that they will match each gift purchased with a gift for someone less fortunate in India. Additionally, under each blend is a 'deed of kindness' to perform.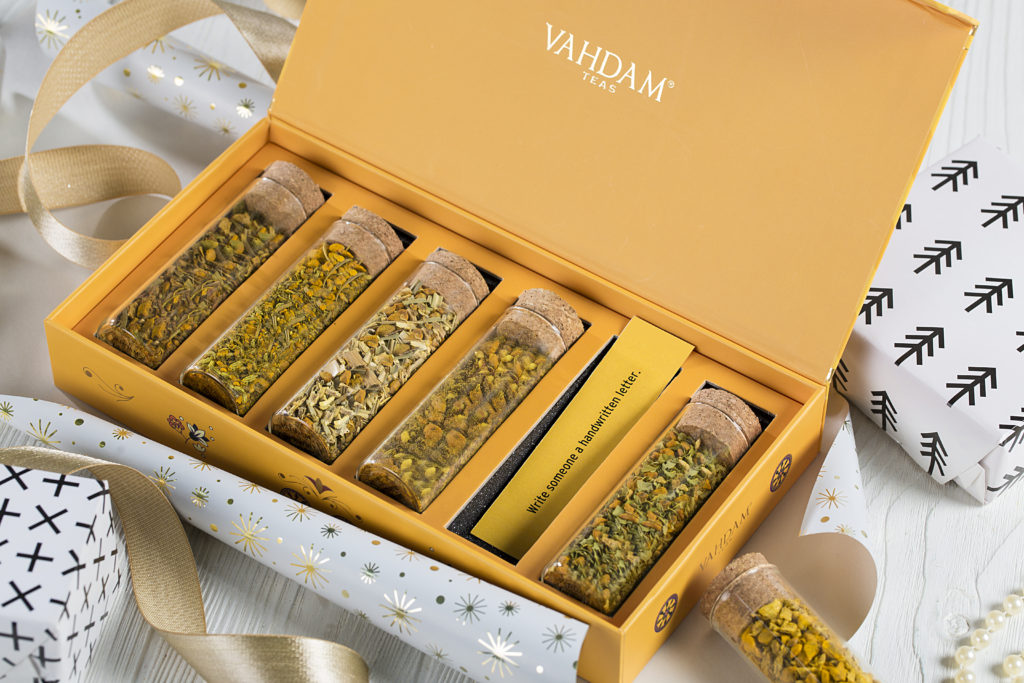 Turmeric Saffron
Very light but refreshing. Ingredients: Turmeric, pistachio, almonds, fennel, black pepper, star anise, cloves, cardamom, cinnamon, and saffron.
Turmeric Moringa
Super herbal (moringa forward) but savory with a warming turmeric essence. Ingredients: Turmeric, moringa, ginger, black pepper.
Turmeric Fennel
The peppermint is present, slightly cooling and complementary to the warming spices. Ingredients: Turmeric, fennel, rosemary, peppermint.
Turmeric Ginger
Zesty ginger upfront – warming yet not overwhelming. This blend only has two ingredients but sometimes less is more. Ingredients: Turmeric, ginger.
Turmeric Ashwagandha
Light with hints of licorice at the end. Ingredients: Turmeric, ashwagandha, lemongrass, black pepper, licorice.
Turmeric Spiced
Spicey cinnamon up front and finished with notes of bergamot and cardamom. Ingredients: Turmeric, cinnamon, ginger, cardamom, black pepper, lemongrass, bergamot extracts.
Overall, these tisanes are a great way to help build immunity and are perfect for the turmeric lover in your life.
This was not a sponsored post and reflects the honest opinions of The Daily Tea.