With summer still in full swing, the antidote to blazing rays and heatwaves is a tall glass of cold brew tea. If you're not familiar with this method it simply involves mixing cold water with tea in a vessel and refrigerating it for an extended period of time (depending on the tea and your taste buds). The cold water works its magic to gently coax out smoother and sweeter flavors tucked within the tea (compared to what you might taste in a traditional hot brew and chill).
While a simple jam jar will do when making a cold brew steep for one, there are a series of larger vessels that offer both beauty and function for steeping and serving at your next backyard gathering. We have rounded up 5 of our favorites that let you take your tea from the fridge to the table. Plus, you can watch the leaves unfold in the glass or plastic pitchers. Be sure to experiment with flavors by infusing tea with herbs from your tisane garden and fruit from the farmer's market (p.s. we love to cold brew roasted oolong teas with plums and thyme).
This glass bottle gives the leaves plenty of room to dance about and brew. Hidden under the silicone stopper and spout is a filter that allows you to effortlessly pour the cold brewed tea without finding any leaves in your cup.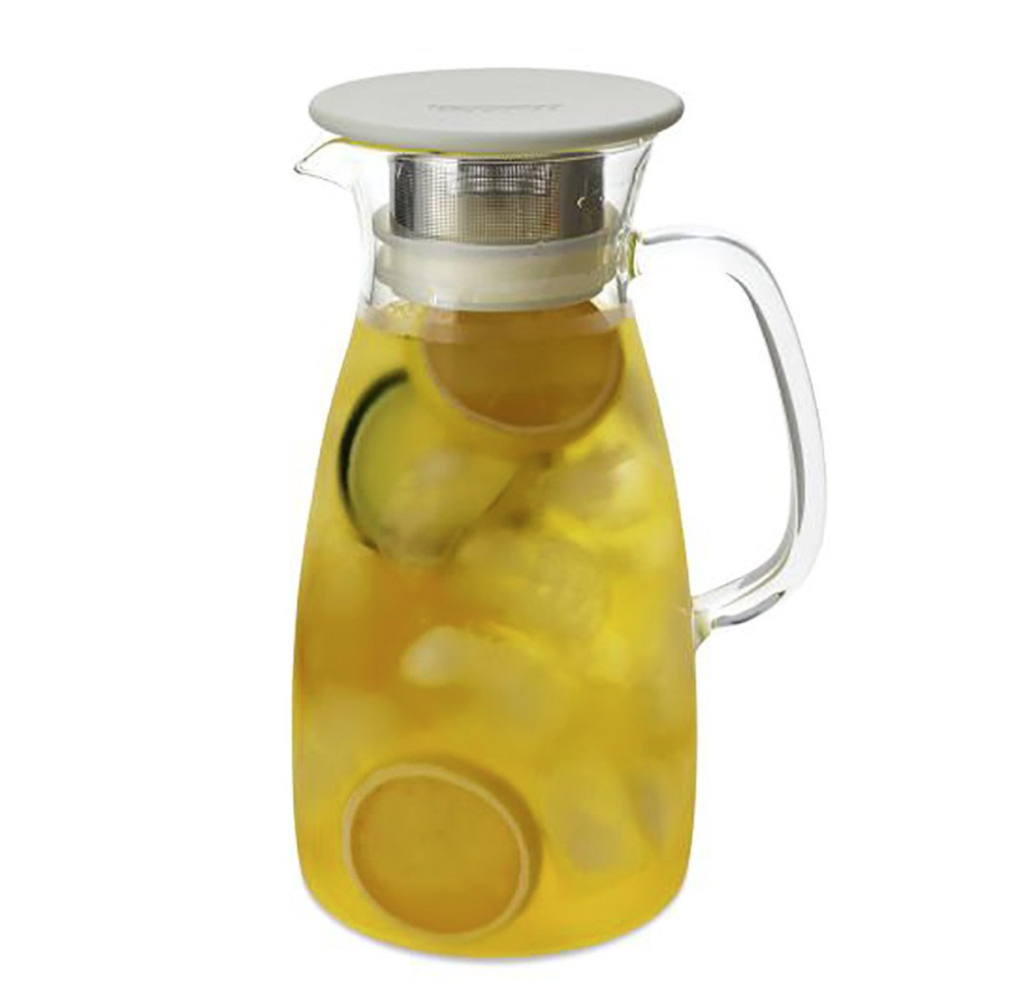 Similar to the bottle above, The Mist Iced Tea Jug provides your tea leaves with plenty of room to expand and release their flavors in cold water. A stainless steel filter catches the tea leaves and offers a expertly filtered steep.
Choose between steeping for one (approx 1.5 cups) or a small party (approx 4.2 cups). These glass pitchers feature a built in strainer (reminiscent of a french press but without the movement) that keep the leaves in the pitcher to await a second cold steep. Note that the lid easily unscrews for easy cleaning.
This elegant french-press tea pot offers a natural feel with polished olive wood. When you're ready to serve the chilled tea, simply press the stainless filter down to submerge the leaves for an easy pour. Ready for a re-steep? Don't forget to raise the filter to give the leaves room to unfurl during a second steep.
With a leakproof lid and pitcher made with BPA-free Tritan, this pitcher is best to take on the road from fridge to picnic without any worries of spills or shattered glass. Place leaves inside the large infuser (unlike the others above), twist it into the lid, and lower it into the water for a cold brew. You can remove the infuser before serving.
Click The Cover Image To Download Our Tea Guide For Free!
SaveSave