I'm a newly devoted kombucha drinker. Picture it with me: a slightly fizzy fermented drink, full of probiotics and antioxidants, low in sugar, and of course made with tea- sounds like a sweet deal, right? So when I learned there was a kombucha lecture in my area, I didn't hesitate to attend. I originally went to learn more about this healing beverage and to maybe learn how to make it myself, but when the class started everything changed.
Listening to Olga Sorzano, the founder of Baba's Brew, a nano kombucha brewery based in Chester County, PA, speak about kombucha was like listening to someone tell stories about their childhood best friend. I quickly changed my focus and wanted to share Baba's Brew with you. And Olga was delighted to share her journey and thoughts on the ancient elixir.
Olga was introduced to kombucha in Siberia, Russia by her great-grandmother, Baba, who believed kombucha was the answer to any problem.
"She was a revolution. She raised six children- five of them were not even her own. She was the one who never complained and loved her life.  So I would go and say, 'Baba my belly hurts,' and she would say, 'have some kombucha.' I would say, 'my leg hurts,' and she would say, 'have some kombucha.' "
Little did Olga know, years later, kombucha would follow her to the United States where she would eventually share Baba's recipe with local residents in Pennsylvania.
"There are so many different styles of kombucha, just like wine, you know, you love Cabernet, I love Chardonnay… so we wanted to keep the same philosophy Baba used to have. So we don't juice, extracts, or concentrate. Our kombucha is infused 100% with organic whole berries or fruit, herbs, and spices," she continued, "Kombucha is a great substitute for anything but water. Anything else either has a ton of sugar and/or artificial flavorings."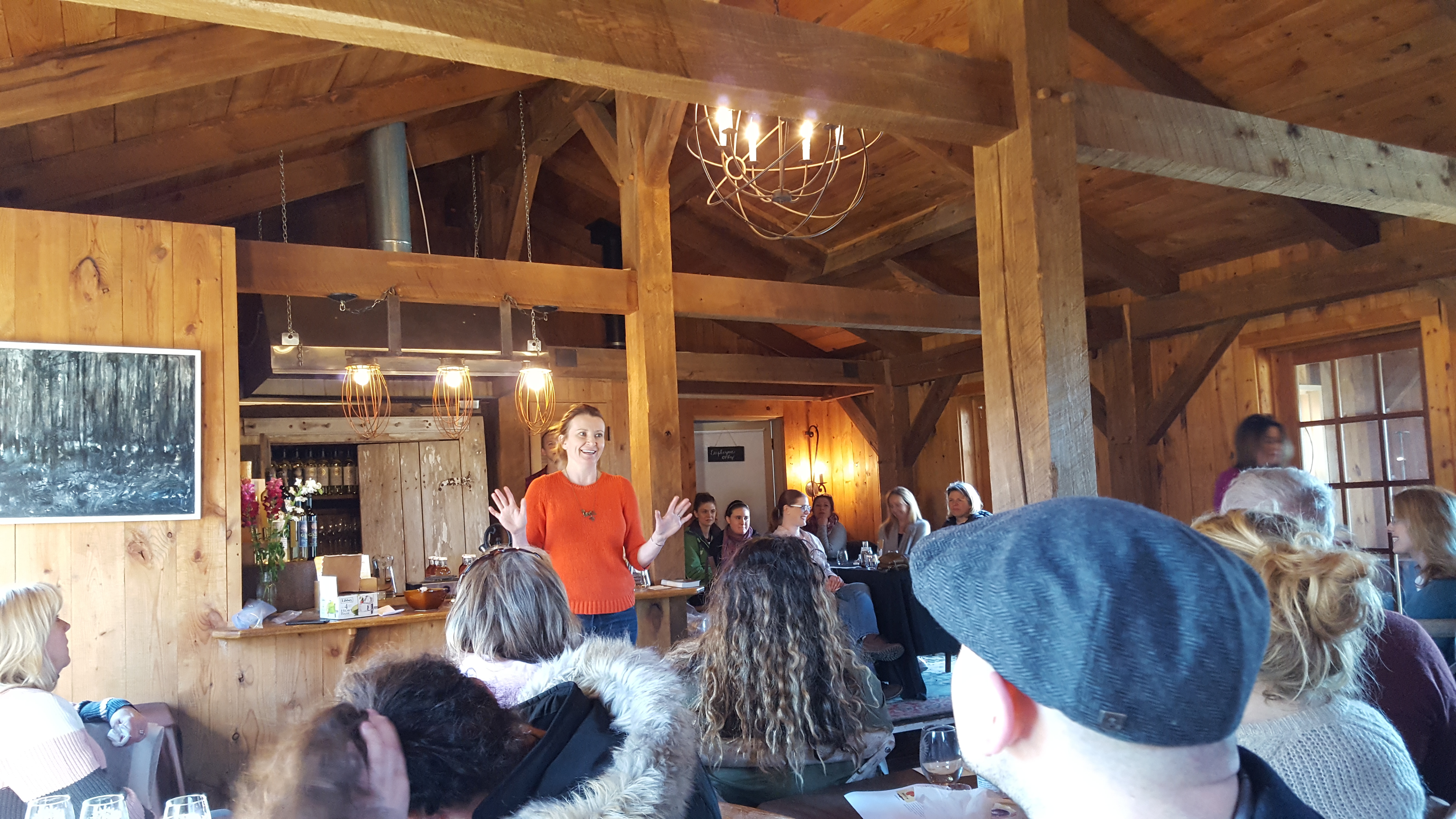 Their blends are inspired by local flavors, local climate, and local cuisine. And to top it off, they use black, oolong, and green teas that are Fairtrade and organic from Teatulia.
"With Baba, she would just find something seasonal. In the springtime she would use rhubarb and strawberries, in the fall she would use apples, and we do the same thing. It's just our ingredients might be a little bit different than what I grew up using in Siberia."
I asked Olga what she thought about kombucha being trendy in the United States.
"My mom used to say, 'all new things are well forgotten old things.'  The greatest reward is bringing something that is very familiar from my childhood and it becoming trendy…it's something that you believe deeply in your heart that's something that is so much better and so much healthier… when something good becomes trendy, I'm all for being trendy." 
She continued talking about her kombucha roots, referring to SCOBY (Symbiotic Culture of Bacteria and Yeast), which can be passed down from one kombucha batch to the next like a sourdough starter. "The most amazing thing I think is that we use SCOBY, and some parts of the SCOBY are the great-great-great-great-great-great daughters of my original SCOBY. So our kombucha is actually related via DNA!"
One of Olga's favorite kombuchas is called Flower Power- a blend infused with lavender, rose petals, tulsi basil, and hibiscus.
"I started to brew Flower Power when I was pregnant. I was craving was blue cheese and rosé wine. So I made this blend, Flower Power, which really reminded me of a beautiful, dry rosé wine from the Rhone Valley with all this lavender and rose petal notes. It still remains one of my favorite brews. It's very, very dry.  You just pour it in a wine glass and it's as satisfying as rosé wine (minus a headache). And if you're looking for a little bit more effect, it makes a fantastic martini."
One of the final questions I asked Olga was about her vision for Baba's Brew. She said she did not wish to compromise their ability to stay local. She continued, "We do not want to be any national brand. Our vision is just kind of stay local, maybe northeast or east coast, maybe just expand our areas of delivery."
You can find Baba's Brew on tap or in bottles at select locations around Southeastern PA and the surrounding area. Feel free to check them out online and on social media as they gear up for summer events!