When I used to picture Scotland, I imagined historic fortresses atop rolling green hills, the movie Braveheart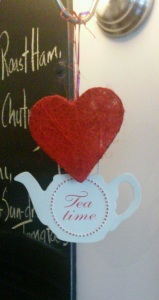 and a lively people with incomprehensible accents. When I actually visited with my family in September, I experienced firsthand Scotland's vibrant culture and the unmatched hospitality of its people.
While my dad and brother played golf and watched the Ryder Cup—a biennial men's golf tournament between teams from Europe and the United States—my mom and I took to the (left side) of the streets to explore this beautiful country and of course, its wonderful tea tradition.
On our first full day, we visited Prestwick, a quaint town on the south-west coast of Scotland. Feeling relaxed from our impromptu massages, I got a hankering for afternoon tea.
Thankfully, it wasn't long before we spotted Murray's, a colorful cafe on the town's main street.  The paper hearts in the window and teapot shaped "open" sign on the door drew me in, but it was the sweet smell of baking pastries and the handwritten specialty tea menu that made me stay.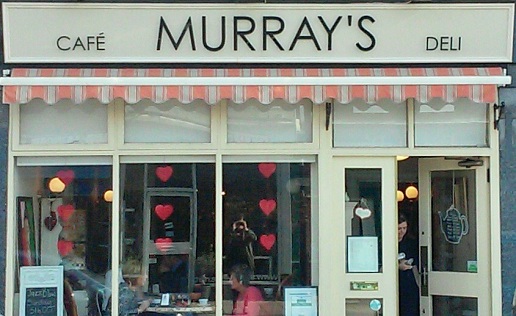 Since we were only hungry for a snack, my mom and I each decided on a "pot of tea for one" with the perfect accompaniment to afternoon tea—a scone with butter and jam. My mom, who is partial to green tea, chose the lemon and ginger tea with a fruit scone and I, led by my sweet tooth, went for the chamomile honey and vanilla tea with a fruit and cinnamon scone.
The scones were absolutely dynamite, but unfortunately, both teas had a weak flavor. Nevertheless, as we sipped our tea and devoured our scones, we enjoyed Murray's cozy ambiance and left filled with a sense of calm.
Next, we head to the Victorian town of Pitlochry, which is situated in the heart of the country. Between its lively main street and the charming and exquisitely beautiful bed & breakfast where we stayed, I immediately fell in love with the town.
As we were in fact in Scotland, we knew we were obligated to tour a whiskey distillery. Much to our delight, we learned that Pitlochry is home to Edradour, Scotland's smallest distillery, and one of the few that still produces handmade single malt whiskey. Following a scenic uphill hike, and accompanied by tourists from France, Germany and Switzerland, we learned how Edradour makes Scotland's most famed drink (and in my opinion, its second best).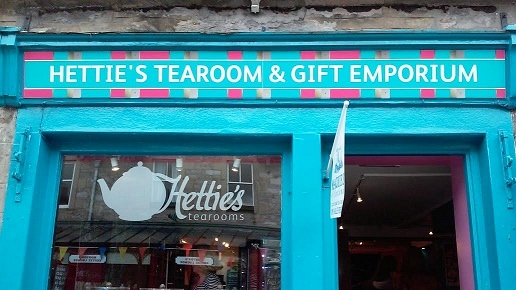 After our early morning whiskey tasting, mom and I agreed it was time for afternoon tea! Though I had left the list of the town's tea shops in my room, as fate would have it, we accidentally stumbled upon Hettie's Tearooms, which I later noted was number one on my list.
Hettie's is a tea lover's dream come true. I have to imagine that I disturbed my fellow patrons with my persistent photo snapping of the loose tea and accoutrements for sale as well as the playful décor, including the teapot-headed men and women bathroom signs and pink and blue teapot shaped wall hangings.
Although I didn't splurge on tea-to-go, I'm happy to report that they have an online shop!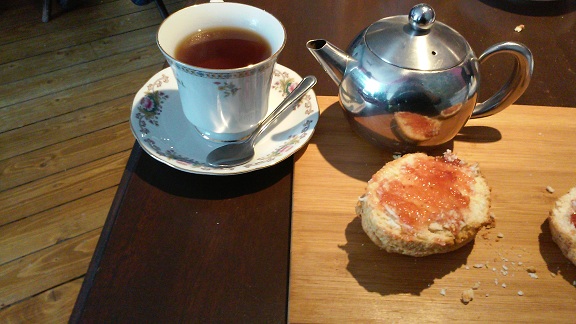 While at Hettie's, mom and I ordered the "tea, scone and soup" combination. We both got plain scones and a light potato leek soup. I chose the "Little Miss Spice Girl," an Indian Assam black tea with ginger root, cinnamon, cloves and cardamom and my mom opted for the "Click Clack Miss Mac," a green tea in lemon with ginger and lemongrass. We were given an hourglass timer so we'd know when the teas were done steeping, and as soon as they were, we both sipped every last drop. I was thrilled with my choice, which fulfilled everything I look for in an Indian tea—a spicy mix of flavors with an underlying sweetness. That night I had the kind of satisfying night's sleep that only comes after a day of indulging your every whim!
Our final day of the trip brought us to Edinburgh, home of the Edinburgh Festival Fringe, the largest arts festival in the world. (Although it wasn't going on at the time, I do hope to attend someday!) I felt instantly connected to Scotland's capital, which has a distinctly modern feel juxtaposed with its rich history.
This time my dad joined us for tea. We landed at Eteaket, which I'll award the best named tea shop of the trip. The walls were adorned with pieces by a local artist as well as tea-themed posters, including one which implored the age-old British mantra "Keep Calm and Carry on," amended to "Keep Calm and Have a Cup of Tea." It took me a while to read the pages-long menu at Eteaket, but I finally settled on a classic choice: peppermint tea and of course, a scone.
At home, I drink peppermint tea nearly every afternoon and as I sit here now, enjoying my daily cup, I can't help but long for the Eteaket experience. My pot was brewed to perfection, and I especially enjoyed the clotted cream that accompanied my scone. Had we been in Edinburgh longer, I'm certain I could've found more wonderful tea houses, but I'm delighted we came upon this one.
I am so grateful I had the opportunity to travel to Scotland. It was, truly, an unforgettable experience, which I'll carry with me throughout my life. I remain inspired by the unparalleled kindness demonstrated by the Scottish people, the country's astounding physical beauty, its culture and its timeless tradition of afternoon tea!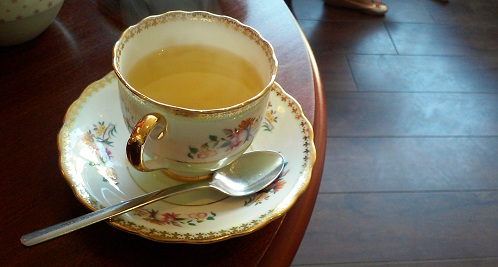 note that this piece was previously published on November, 5th 2014