Camellia Sinensis, one of the top tea houses and tea importers for Canada, has recently launched their first Tea Studio in Nilgiri Hills, India. For about 20 years, Camellia Sinensis has been selling tea, writing books, and educating the public about tea. It is with much anticipation that they launch their first Tea Studio, an experimental approach to tea production.  Kevin Gascoyne, one of Camellia Sinensis' professional Tea Tasters, took some time to answer a few questions.
Why create a tea studio?
At the outset, the project was simply to create a new line of 'boutique style', whole leaf teas for the rapidly developing specialty tea market.  During the planning stages, as the partnership was established and our ideas developed, we introduced various features and mandates that were important to us.  Many of these were fuelled by a need for change in an industry that is struggling with old systems, waning market relevance, and a lack of care for both the workforce communities and environmental considerations.
How is it socially responsible? How are you benefiting the local community?
In a region seriously lacking in opportunities for women, we have taken the initiative to have an all-female staff.  Plans are on the table for incentive programs for employees that show application, and the possibility of paid further education to improve their opportunities.
Many families in the surrounding village communities will educate only their male children so we have also set up a fund for the education of local girls.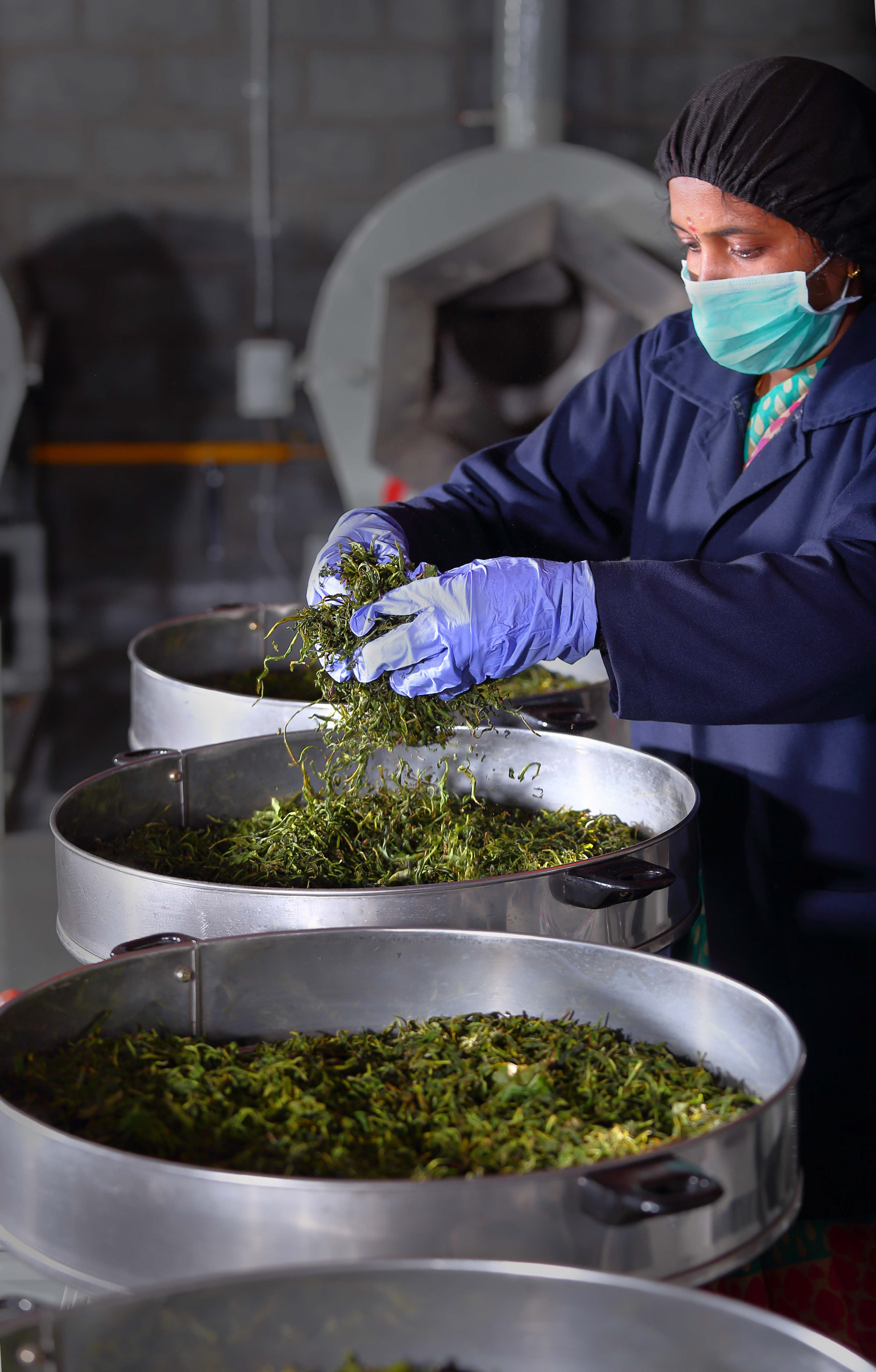 I read you have special machines that mimic hand rolling. How does machine rolled tea work? Is it less labor intensive? 
The Chinese are unquestionably the masters of manually transformed, 'hand-made' teas.  In recent years the struggle to continue these artisanal practices and the increasing volumes of production make it difficult and expensive to 'hand roll' tea.  In reaction to this situation, a whole range of small, very specialized machines has been developed to mimic the manipulation, rolling, pressing etc. of different styles of finished tea.  We selected 28 of these cutting-edge Chinese machines for the Tea Studio set-up. They are still pretty "hands-on," requiring a certain amount of artisanal sensitivity but not the decade of training it takes to pan by hand.
Tell me a little bit about the design of the building.
During the development of the building's design, we already had a good idea of what we were looking for.  Once initial plans were drawn up by the team and an Indian architect we consulted with tea producers and Tea Institute experts from Taiwan, China, Japan, and Darjeeling. Gradually the designs were refined into this final 'state of the art' structure.
What obstacles did you overcome to get here?
Forming the company with international partners was a mountain of paperwork to start with.  This was followed by all the permissions and permits we needed. As we headed into construction we had a few major set-backs with the foundation and the electricity.  Now all that is all in the past, the machines are installed and the green leaf arriving in the factory, the challenges are to tweak and fine-tune the manufacture continually so as to tap the maximum potential of the leaf material.  Fortunately, the team has plenty of experience in this department and the initial results have been very promising and highly praised in the tea community.
The tea studio is now making a selection of white, green, oolong and black teas which are already available at teastudio.info.
All photos were provided by permission of Camellia Sinensis.