Our friends at SerendipiTea recently embarked on a wondrous trip to Guatemala to see first-hand where some of their tea originates. This is their story, as well as a gallery of photos to take you along on a visual journey.
At SerendipiTea we are very selective about the tea we represent, and one of the highlights of being in this tea business is visiting the gardens from which we import. SerendipiTea introduced Organic Black Tea from Guatemala in 2011, so this trip was long overdue.
A number of years ago we were quite fortunate to have been contacted directly by managing members of Te Chirrepec. The tea was not being sold in the States yet, so we had a golden opportunity to be amongst the first. After expressing interest, samples were sent for us to cup. As I learned more about the history & structure of this garden I was intrigued; after cupping the tea samples I was sold.
Te Chirrepec is located in Coban, Guatemala at an elevation of approximately 4,300 feet near sacred caves where Mayan rituals still take place. Tea growing in this region since the late 19th century was, surprisingly, introduced to the area by German immigrants who observed that the climate and elevation there were very similar to parts of India where tea growth was robust. Production had been spotty over time, but about 40 years ago a co-operative of Mayan family farmers working the vast garden was formed and has grown impressively since then.
The co-operative is made up of Q'eqchi (one of the numerous Mayan cultures in the Coban area) family farmers who all live on the pristine grounds of the garden where pine trees, edible vegetation and various spices are grown as part of an organic farming practice which includes biodiversity. Vegetables and fruit are for co-op members' consumption as well as for sale in the marketplace. Pine trees are another product that is sold. Deforestation is an issue in Guatemala, but as trees come down, new ones are planted. The co-operative is very structured; there is a main office where member names and responsibilities are posted. The board is made up of elected and appointed positions; regularly scheduled meetings are held, and all families work together to ensure the success and smooth running of the Tea Garden, as well as all other agricultural products on the land.
As in other gardens which grow and manufacture specialty tea, all picking is done by hand mostly by women. The leaves are weighed upon several returns each day to the on-site factory, where men operate the machines that will ultimately make full leaf, as well as CTC (crush, tear and curl), black tea. I've made a request for Green Tea and hope that we'll be treated to this new addition soon!
---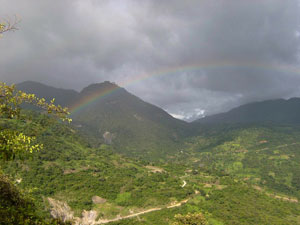 Did You Know?
The name 'Guatemala' means 'place of many trees'
'Guatemalan Tea Life' was presented by