note that this article was previously published on August 19th, 2014
Just steps away from Grand Central Terminal on East 39th street in Manhattan, at Ippodo Tea, New Yorkers and tourists alike can escape the midtown bustle and be, albeit temporarily, transported to Japan.
The original Ippodo, which is located in the heart of Kyoto, has been the company's flagship for nearly 300 years. The New York location, which was inaugurated in April 2013, provides Japanese green tea enthusiasts with the same quality product as its counterpart in Japan.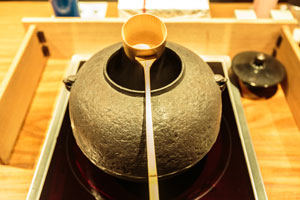 On Wednesday evening I had the unique opportunity to partake in an intimate tea tasting at Ippodo. I sampled a matcha "smoothie," hot matcha, gyokuro, sencha and bancha, all of which were prepared by Ippodo veteran and Japanese green tea expert, Riichiro Kato. Although I enjoyed all four selections, my favorite was the sencha, which Riichiro said is most common in Japan.
For those who are unfamiliar with Japanese green tea, the four aforementioned varieties are each grown and prepared differently. As Riichiro explained to me, matcha and gyokuro are grown in shade, whereas sencha and bancha are grown in sunlight. Matcha, which is made from the finely ground powder of the matcha leaf, is best known for its bright green color and full-bodied flavor.
Riichiro brewed me a chilled gyokuro, which he said must be steeped for 15-20 minutes. I look forward to trying a hot gyokuro, but certainly recommend stopping by Ippodo if you're looking for a refreshing summer drink on an impossibly hot New York day.
I'm not surprised that sencha is considered an "everyday tea" in Japan, as its subtlety makes it easy to drink and left me wanting more. Last but certainly not least, I sampled Gokujo Hojicha, which Riichiro described as a "casual" tea made from roasted bancha.** As bancha contains less caffeine than matcha, gyokuro or sencha, I'd suggest enjoying this smoky treat as a substitute for your evening Earl Grey.
All of the teas and various utensils in Ippodo's New York location are imported from Kyoto. The employees, who are trained in the intricate art of preparing Japanese green tea, are eager to answer customers' questions about steeping times, how to properly whisk matcha, and everything in between.
The day after the tasting, I went out for sushi at a restaurant near my office. Although I've been there many times before and have always enjoyed a cup of green tea with my spicy salmon roll, this time the tea seemed a bit lackluster. A few sips in, I realized my experience at Ippodo left me partial to green tea of the utmost quality. I look forward to my next visit to Ippodo, and am excited to learn more about the timeless Japanese tradition of green tea.
If you're able, I encourage you to visit Ippodo for a taste of Kyoto in New York City.
**Author's note: This article has been updated. Due to incorrect information in a previous version, this line has been updated from "…I sampled a bancha called hojicha, which Riichiro described as a "casual" tea made from roasted green tea and roasted rice" to "… I sampled Gokujo Hojicha, which Riichiro described as a "casual" tea made from roasted bancha." Please excuse the previous incorrect information.