In this piece, Austin Yoder speaks to why Taiwan is one of the last remaining hidden gems in the tea world, with a unique history, terroir, and style not found anywhere else. Before exploring Taiwan (where he is currently based), Austin grew up in Hong Kong, Jakarta and Indonesia. He studied Chinese, Philosophy and Entrepreneurship at Georgetown University. Truly passionate about tea, he founded Tearroir.com, where he writes about his steeped experiences and sells the fine teas that he encounters on his global adventures.
Taiwan's terroir is uniquely suited to the production of high altitude oolong teas. Situated off the southwestern coast of China and about halfway between Japan and the Philippines, Taiwan is located in a subtropical climate zone. The island sees both tropical weather from Southeast Asia during summer months and winter temperatures cold enough for snow on its highest mountain peaks like Yushan, Lishan, and Alishan. Taiwan's soil is extremely fertile. Farmers in many of the tea producing micro-regions also grow tropical fruits, aloe vera plants, and traditional vegetables like the delicious bitter melon. Taiwan is about one-third the size of South Korea, with a surface area of 14,000 square miles. The Ilha Formosa, as the Portuguese named it, is home to more than 26,000 separate tea farms and produces a full spectrum of premium teas including white, green, oolong, and black. According to Jackson Huang, advisor to the Taiwan Tea Manufacturer's Association, no other location in the world can produce such a full range.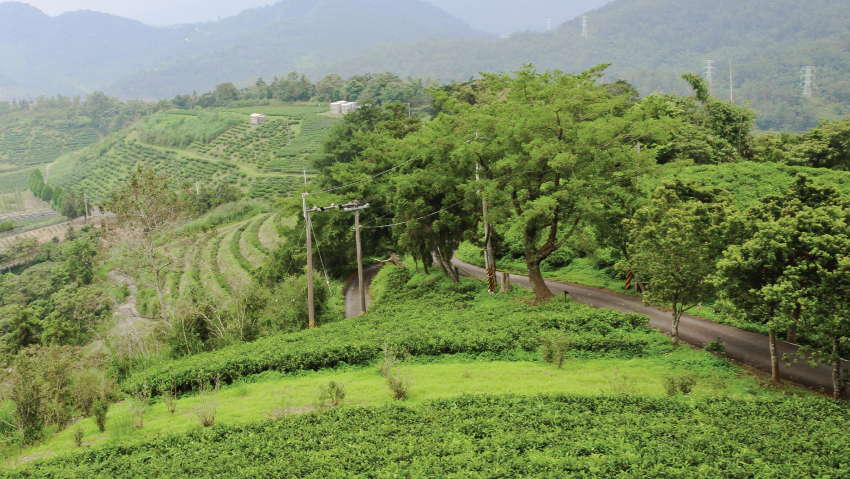 Given that Taiwan's terroir makes it ideal for growing high quality tea, how is it possible that many western consumers have never even heard of the island, let alone tasted the diversity of teas it produces? Small land mass and limited production and sophisticated domestic consumers ensure that most of Taiwan's high quality teas never reach the western hemisphere. Asian importers from Japan, mainland China and Malaysia often snap up the premium tea that leaves the shores of Taiwan before anyone else has a chance to sample it. I live in Taiwan and explore the island's tea culture and many tea farms weekly. There are a number of Taiwan's teaproducing regions that create teas that delight and surprise equal to Taiwan's most famous Alishan Oolong. Here are four unique teas often not found in the west, representing Taiwan's different production regions and styles.
Muzha Tieguanyin
Muzha Tieguanyin is an Oolong cultivar brought to Taiwan from the Anxi region of mainland China's Fujian province in 1895. It was first planted on the island by the founder of the historical Chang Nai Miao Teahouse, which tourists still frequent today, and is heavier, darker and more smoky than its mainland sister tea Anxi Tieguanyin. Muzha lies a mere 40 minutes outside of Taipei City and is situated next to both the famous mountainous areas of Maokong and Pinglin, where much of the country's crop of baozhong tea is produced. It is located next to the Taipei zoo where you can take a beautiful gondola over the tops of the Nankang Mountain range to a misty, mountainous hub of tea activity. The mountains of Muzha overlook the sprawl of Taipei City and Taipei 101, the second tallest building in the world. The soil of the Muzha region is loose and rocky, allowing the roots of tea plants like Tieguanyin to grow deep.
TAIWANESE TEA AMBASSADOR THOMAS SHU OF ABC TEAS DESCRIBES MUZHA TIEGUANYIN AS A "MEDIUM OXIDIZED AND LENGTHILY BAKED TEA. ITS SEMI-BALLED LEAVES PRODUCE AN AMBER CUP OF TEA, WHICH LOOKS STRONG, AND IS SPARKLINGLY SWEET. MUZHA TIEGUANYIN HAS A VERY NATURAL NUTTY FLAVOR AND TOASTY NOTE." Muzha Tieguanyin is traditionally roasted heavily over the course of one full month and produces a full, heavy body, with a strikingly powerful finish. Its heavy roasting can produce notes of light wood smoke and sweet tobacco. Good quality Muzha Tieguanyin can be brewed up to ten times without changing the leaves and will leave a toasted butterscotch finish on your palate for hours after you've finished drinking. Muzha Tieguanyin is a wonderful bridge into tea for those accustomed to drinking coffee or beer. Due to its bold flavor, it is immediately distinguishable from Taiwan's lighter premium Oolong teas, even for beginners just starting to develop their palates.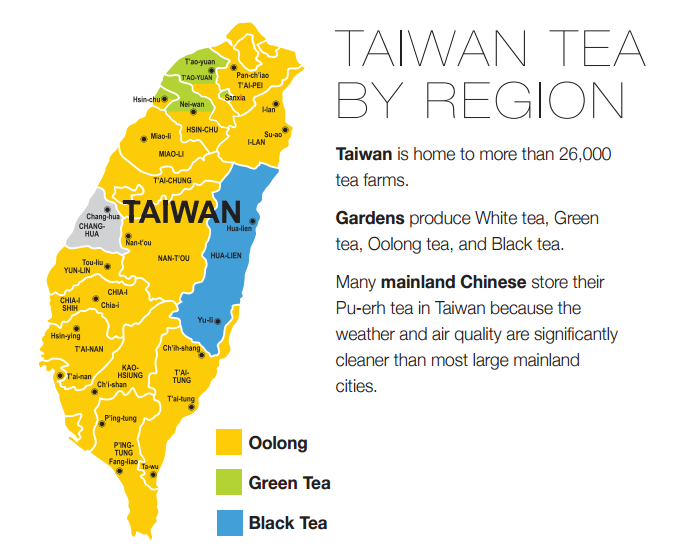 Hsinchu's Dongfang Meiren
South of Muzha, Hsinchu County is located about an hour's drive from Taipei City. It lies on the northwest coast of the island across the strait from mainland China's Fujian province. Cities in Hsinchu like Guansi produce much of the island's green tea for export to Japan, though the most unique tea crop grown in the region is undoubtedly Dongfang meiren, also known as Oriental Beauty. Dongfang meiren is a heavily fermented tea sweetened by the saliva of the green leafhopper bug, which looks like a tiny translucent grasshopper. This is a heavily oxidized oolong tea which comes in strips tinted with light yellows, browns, and whites.
Green leafhopper bugs come to Xinzhu once per year to feast on summer tea crops. When these bugs feast on tea crops, they inject saliva into the stem of the tea leaf, impeding bud growth, and turning the leaves whitish-brown. Enzymes from the bug's saliva interact with the tea plant to produce a natural honey flavor in the tea, like chewing on summer honeycomb or sipping honeysuckle nectar. TEA AMBASSADOR SHU DESCRIBES THIS HIGHLY OXIDIZED, LIGHTLY BAKED TEA AS HAVING A RIPE HONEYED PEACH FLAVOR, AND FLORAL AROMA. THE TEA CAN BE BREWED AROUND SIX TIMES BEFORE THE LEAVES NEED CHANGING.
Because the green leafhopper bugs only come around once per year, truly high and winter. The best quality tea leaves are from artisanal and small batch tea growers whose families have been producing in the region for multiple generations. Artisanal tea producers who have long established professional relationships with these outstanding tea growers have first claim on the best of each season's crop, and they quickly sell out to their best customers within a week or two of picking. Tea Master Gao Que of the Pure Hearts Seeking Tea Teahouse has been doing business with growers in the region for over 15 years. When the winter 2012 crop was picked in November, he was only able to buy 15 kg (33 pounds), because "good things come in small quantities." He sold out more than half within two days of putting it on his shelves and sold his entire supply within a week, 100% of which was purchased by local and mainland Chinese consumers. quality Dongfang meiren tea can only be produced in extremely small quantities. Once it is bought up, that's it until next summer.
Dayuling Oolong tea is lightly oxidized and barely roasted at all, balled into full and verdant pearls. This tea is similar to an excellent Pinot Noir in that its finish is complex, surprising, and will often last for hours on end. The tea's flavor profile is peppered with sweet spinach, buttercream, and fresh grass clippings, where the finish is heavy and royal. Dayuling will paint your palate with powerful, wintry strokes of mouth feel. Locals often give Dayuling to their family and best clients as a gift for Chinese New Year. It is one of the most highly valued, prestigious teas produced in Taiwan.
Nantou's Black Teas
Further south of Heping County lies Taiwan's famous Sun Moon Lake district, right in the heart of Nantou County. Sun Moon Lake has loose rocky soil, receives heavy sun throughout the entire summer, and its mountains are hung with dew each morning. As such, the weather in this mountainous region is highly suited to growing black tea. Tea growers throughout the region cultivate the Assam cultivar, as well as a number of unique tea cultivars developed by Taiwan's Tea Research and Extension Station (TRES). Progressive tea farmers in this area take advantage of the extensive native insect ecosystem of Nantou County, including spiders, crickets, snails, and moths to help maintain healthy crops without the use of pesticides.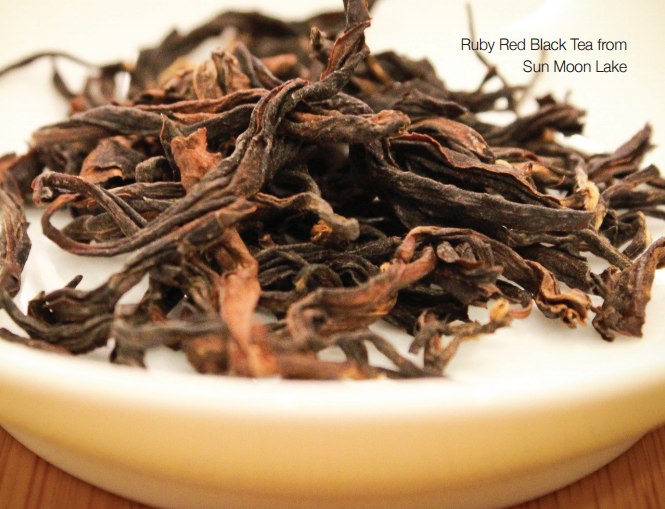 The Ruby Red Black Tea (Ruby 18 Cultivar) is one of the finest cultivars grown in the region, and has a unique flavor of cinnamon bark and mint. TEA AMBASSADOR SHU DESCRIBES THE TEA AS "DELICATELY WITHERED, SKILLFULLY ROLLED AND FULLY OXIDIZED. IT CAN BE CONSUMED AS A BRANDY OOLONG, AND CAN BE INFUSED FOR SEVERAL ROUNDS WITHOUT LOSING ITS RICH AROMA AND TASTE. IT HAS A MEDIUM BODY, LIGHT TANNIC BACKBONE, AND AN EXTENDED FINISH THAT YOU WOULD NORMALLY ONLY FIND IN FINE OOLONG TEAS.
Outside of the Ruby 18 cultivar, oolong cultivars like Jinxuan and Four Seasons Oolong are also processed as fully fermented black teas in the Sun Moon Lake region. These oolong-black cultivars are interesting to black tea drinkers because they maintain the full mouth feel of their oolong roots, while taking on the heavier body of their black-tea style. Taiwan's geography, climate and history make it one of the best locations in the world to grow tea of any type. Taiwan exports green tea and matcha green teas to Japan, black teas to the Middle East, and super premium oolong teas to mainland China. It is one of the best kept secrets of the Asian tea world thanks to its small landmass and mature domestic marketplace. As the government of Taiwan takes an active stance towards promoting its tea and tea tourism, it will become more widely known in the next 5 – 10 years, though those in the know can still come to visit the island and experience its full range of specialty teas at the very forefront of the wave.
This Post Was Previously Published In The 2013 January/February Issue Of Tea Magazine