Ranmu Xue, the 28-year-old founder of Us Two Tea, is on a mission to make rare Taiwanese tea accessible to consumers in the U.S. She took some time to answer our questions about Taiwanese tea and her new company.
Tell me about your background. I'd like to know more about you and your history.
I went to an art school in San Francisco to study graphic design. I was previously working as a product designer at Meural, a digital canvas that allows people to hang thousands of paintings on their wall. My design and rebranding work there was a major factor in the company's acquisition by Netgear for $22,000,000. After we were acquired last summer, I thought it was the perfect time to start my own business and build my own brand. I've lived in the U.S for 10 years now, and I haven't found any good Asian tea brand in the U.S that I can order tea on a daily basis. I think tea is so wonderful for our body, and I really want to bring the tea culture to the U.S and share it with my friends.
Where did your journey with tea begin? Specifically, Taiwanese tea?

I've been drinking tea my whole life. Tea is a way of life in China, and we consume it every day. After family dinner, we always get together and my grandpa will brew us his favorite tea. It has been a family tradition. I started to drink Taiwanese tea when I moved to Shanghai because I met a lot of Taiwanese friends in high school and they would always bring me tea as a gift. I was in love with the Oolong tea immediately, and I kept drinking Taiwanese tea after that. 
Talk to me about Taiwanese tea. Why should people know about it and drink it?
Taiwanese tea is known as the "Champagne of Tea", especially because it doesn't have any pesticide on the leaves so people can drink it without rinsing it first. Their growing method is far advanced than in other Asian countries, and they only use natural pesticide to grow the tea. Taiwan also has an ideal tea-growing climate; the tea is rich in antioxidants, polyphenols, and catechins that are believed to nourish and heal. Taiwan is known internationally as the darling tea region that produces some of the best oolong teas in the world, though the majority of it stays within the island. Today, there isn't much Taiwanese tea that is imported into the U.S and it's really hard for people to get the authentic Taiwanese tea here. Except for the health benefits that tea provides, Taiwanese tea also has its own unique taste that is very different than other Asian regions' tea.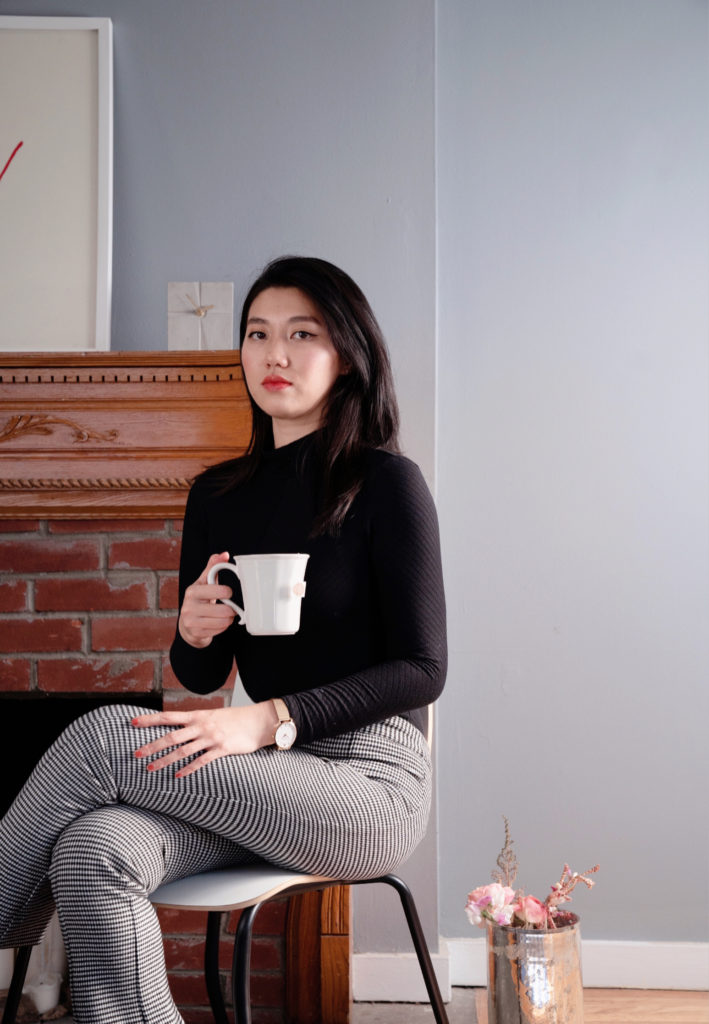 What is your tie to Taiwan?
To start, I love Taiwan and Taiwanese food. When I was conceptualizing my tea company, I was traveling in Taiwan and looking for branding inspiration, and I went to a lot of tea houses and tasted the teas there, and was pleasantly surprised by its high quality, so I decided to import tea from there.

What is the story behind the name, "Us Two Tea?"
"Us Two" really means the two of us. It's about relationships. In China, people gather together to drink tea, whether if they are having a business meeting, a gathering of friends, or a date. Tea will always be there, it's a medium that brings people together. Us Two really is celebrating all the small moments in life which give us the greatest joy. It could be alone or in the company of those we love. I want to make tea culture more accessible to the people in the U.S and to speak to them in a way that coffee speaks to the people here. Friendly, welcoming and accessible.
What was it like meeting and speaking with tea farmers? How much time did you spend with them? What resonated the most with you about your time with the tea farmers?
It was such an amazing trip, and meeting with tea farmers was one of the best parts of my journey. I got to know their family background, their history and their passion for tea. I went back and forth in Taiwan three times in two months and stayed for two weeks each time. I rented a car in Taipei and drove down to the tea farms. Surprisingly, I met so many tea farmers my age; most are the second or third generation. The tea farms were usually passed down from previous generations and those tending to the farms had spent their entire lives immersed in tea culture. Their passion and knowledge about tea deeply touched me and made me want to share it with my friends in the States.
How did you decide on which teas to offer?
I started with the most common ones and the special teas from Taiwan to test the market first. We have Jasmine tea, Black tea (a very unique flavor; it's sweet and smells like honey), Oolong and Baozhong (these last two are the teas that Taiwan is famous for).

Talk about how you came to decide how each tea produces a feeling? How did that decision process happen?
Like I mentioned earlier, "Us Two" is really celebrating the small moments in our life. Tea is just a medium that brings people together. It could be any sorts of relationship. A mother and daughter, Two business partners, A teacher and students, A couple and etc. Along with the various proven health benefits of Taiwanese tea, the Oolong variety, named "Homesick," has a comforting effect, with its slight honey-sweet, mellow flavor. The Baozhong variety is called "Family Tradition," inspired by the strong sense of gathering and gratitude among people in Taiwan. The Jasmine "Pillowtalk" is named for its fragrant, alluring taste and soothing, healing properties. Known for its strong caffeine concentration, her Black Tea "Manhattan Black" implies a strong, bold, bitter-sweet note.

Each of our varieties speaks uniquely to a moment. A mood, meaning in our lives that can be enjoyed or inspired in the company of great tea. And we want to remind people that these small moments are the most precious memories in our lives, it's what makes us human. 
Photos kindly provided by Us Two Tea