Areté is a Greek word that means "excellence of any kind." Areté describes the act of living up to one's fullest potential, finding total fulfillment, and reaching the highest level of health and harmony for our mind, body, and spirit.
Lauren Simko, founder, and owner of Areté, an herbal apothecary in Unionville, PA, graciously took time to answer some of our questions about her life, business, and what she'll be drinking this fall.
I read you were a Health Coach and an Exercise Psychologist- what prompted you to pursue a much different life?
My passion for plants, healing, and nature arose after several years of studying wellness, health and fitness. Despite my academic studies, I felt that a vital link was absent from the "complete" picture–there had to be more to health than just exercise and nutrition. Upon studying the ancient healing tradition of botanical medicine, I had found the piece that was missing.
In all of my prior studies, they never touched on the nature component to wellness. This domain resonated with me and I fell in love with herbal medicine, which led to the creation of my herbal apothecary business, Areté.
She holds a multitude of degrees and certifications that include: a Bachelor of Science in Exercise Science and Nutrition, a Master of Public Health (MPH) Degree concentrating in Integrative Health, certified as an Integrative Health Coach, and a certified Herbalist. She's also certified through the American College of Sports Medicine as an Exercise Physiologist (ACSM-EP) and through the National Commission for Health Education Credentialing as a Certified Health Education Specialist (CHES).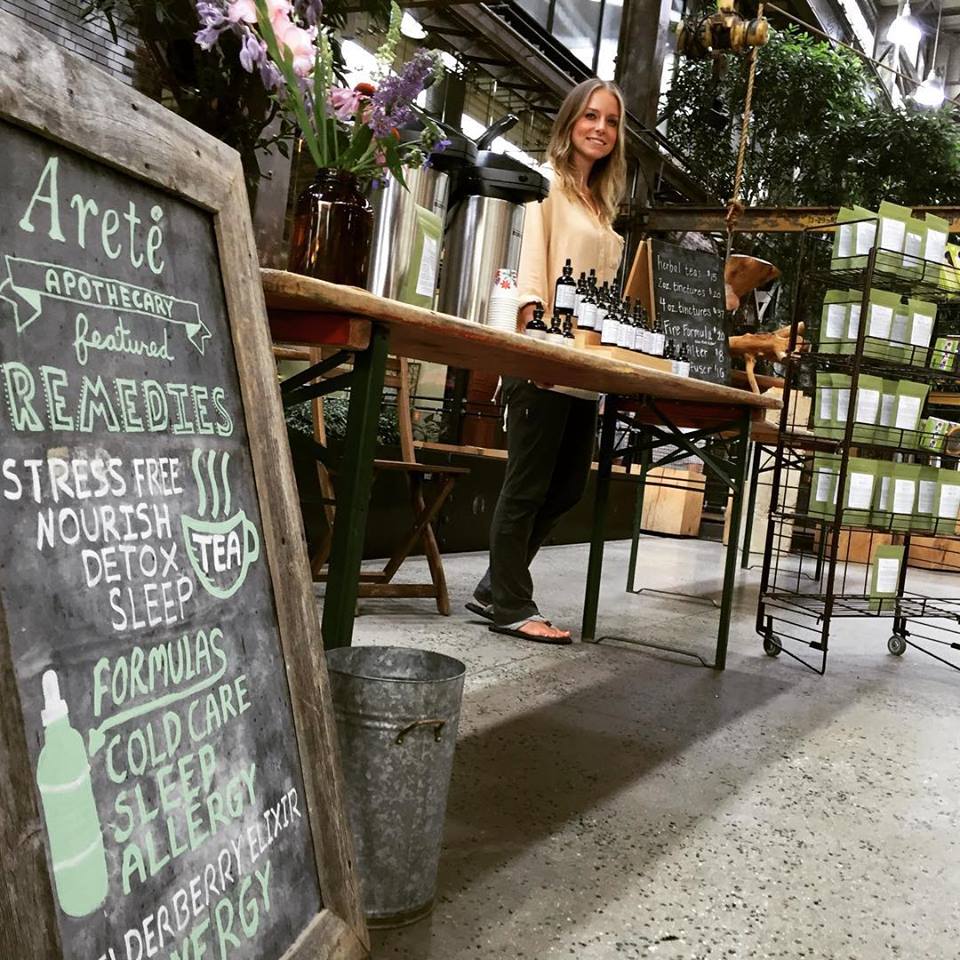 Tell me about your background in botanical medicine.
I studied under an herbalist named Maia Toll, who owns the Herbiary. At the time, her program was located in Chestnut Hill, Pennsylvania. She now relocated to Asheville, North Carolina.
I was first introduced to Maia in a Botanical Medicine course in my MPH program. After graduation, I immediately signed up for Maia's Herbal Foundations program then continued onto her Advanced Herbalist Training.  So, I've studied under her for a few years. This is where I received my herbalist certification and also an herbal wellness coaching certification.
I'll always be a student of the plants and right now I'm nearing the end of a year-long Foraging Intensive course. I also hope to enroll in a Natural Perfumery Intensive Course this spring.
How/why did you start Areté?
Where I worked previously had a very toxic environment and boss. The pain of staying the same was greater than the pain of change, so I jumped ship. I had just finished my herbalist program and decided to launch my business. This was probably not the best way to start a business since it was so rushed, but it gave me the drive to make it work. After all, this was my life's work. It was the kick in the butt I needed to start designing the life I wanted.
I wanted to love my job. I wanted to do my passion for a living. I didn't want to be restrained to the 9-5 rat race. I guess it boils down to freedom. I also didn't want to look back and have regrets. Time is something we cannot get back, so it's the most important commodity. We can't take back those years spent working in a cubicle wishing things were different.  I'm actively creating a business and life that I love and I cannot imagine doing anything else.
What is your mission? On a personal level as well as your business mission.
I believe that our health is deeply connected to nature. Living in harmony with the natural rhythms of the Earth and reconnecting with our inner wisdom is the essence of living a fulfilling, authentic, and purposeful life. Our health is so much more than just the absence of disease. 
Areté is a company that is dedicated to helping each individual achieve optimal health with plant-based products.  
At Areté, we believe that to attain optimal wellness it is vital to embrace a more natural, earth-centered approach to living fuller, healthier lives.  Plant medicine is a beautiful way to empower you on this journey.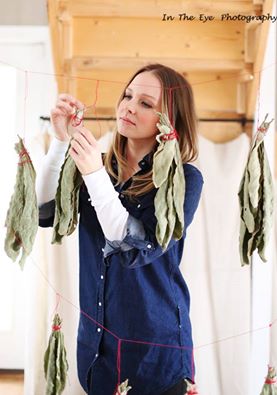 What has been most challenging running a business? What has been most rewarding?
The most challenging thing so far about running a business is the roller coaster of emotions that come along with it. One month I'm high on life and bringing in enough money, while the next month I find myself fearing if I'll be able to pay the mortgage. The feelings of security really fluctuate from month to month.
I also struggle with turning it all off when I'm done with work for the evening. I find that I struggle to keep boundaries between my business and personal time/life. It kind of all bleeds together, especially since my studio is on our property.
The most rewarding aspects of owning a business is that I'm not restrained to the 9-5 work day. My schedule is very flexible and I have more freedom. I love my job and I'm so grateful to be able to do my passion for a living.
It's also extremely rewarding to be able to introduce and educate people on the healing properties of plants. I'm very happy to be able to share this knowledge.  It's fulfilling knowing that it could potentially help them with certain ailments and improve their overall life and health, naturally.
Talk to me about Fall. What tea blends are you planning to make? Tinctures?
Fall is the time for my favorite herbal remedies! My fall-inspired products that help to boost immunity and ward of colds and flu include: Fire Formula (aka Fire Cider), Elderberry Elixir, Cold Care Formula, and Immune Chai Tea. Our Cardamom & Fennel Digestive Bitters also are great digestive aids during the holidays when we tend to overindulge!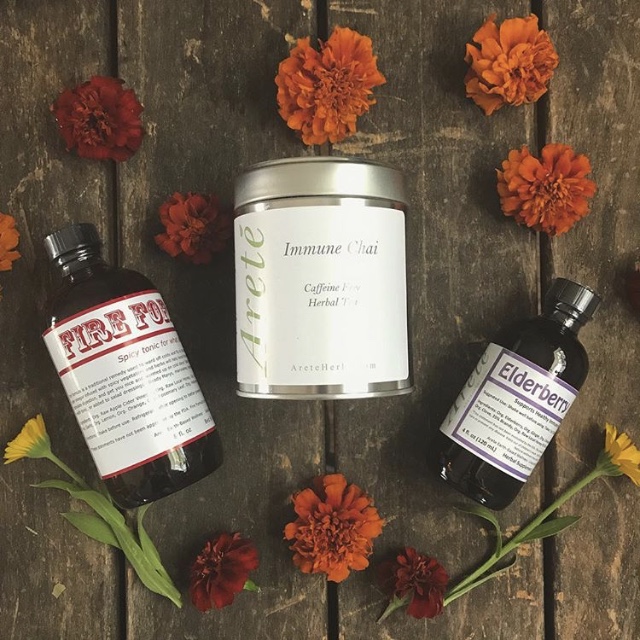 What are you drinking this fall?
My personal favorite tea to sip on during these colder months is the Immune Chai Tea. This aromatic and spicy blend is a twist on traditional chai tea because we added immune-boosting herbs and mushrooms, as well as some roasted dandelion for healthy digestion and liver function. It is great to keep you warm and well all winter long!
Our best seller year-round is the Stress Free Tea. This is the perfect tea blend for anyone who is stressed, overworked, and full of tension. This infusion was created to calm the nerves, restore balance to the body, and to adapt to stress. How perfect is this blend for the usually hectic nature of the holidays?!
We also have an herbal multi-vitamin tea called Nourish. This refreshing brew is a powerhouse of vitamins and minerals including a healthy dose of Vitamin C, calcium and magnesium to support general well-being and healthy bone structure. This nutrient-dense combination of botanicals is a great way to keep healthy during the cold and flu season.
What teas do you drink if you get a cold?
The Immune Chai Tea is my go-to! I love chai tea, so this blend is very soothing to me as well as being super festive at this time of year! The immune-boosting herbs and medicinal mushrooms that we added alongside the herbs traditionally found in chai teas include Eleuthero, Astragalus, and Chaga Mushroom. All of our teas are caffeine-free, including this one, so it's great to cuddle up to and drink throughout the day or in the evening. If I want to make it a treat, I'll add honey and milk!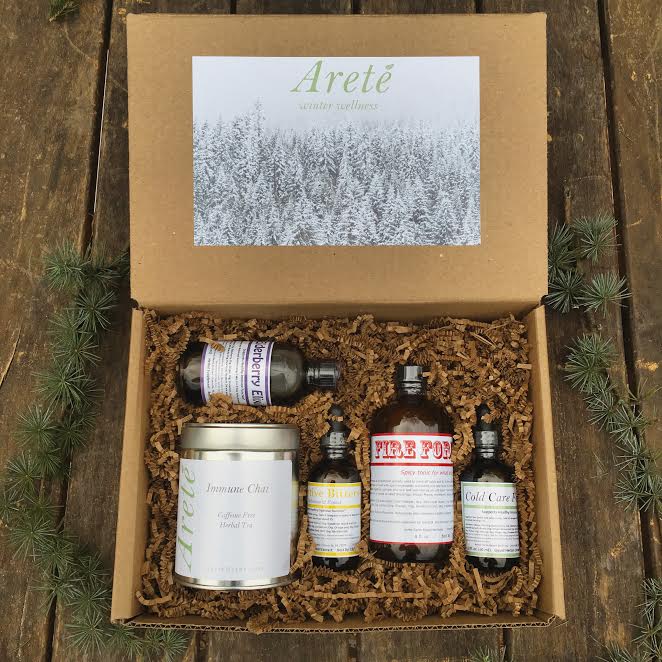 Do you have a daily herbal/tea routine?
It depends on the season, but the past several months I've been adamant about taking our Energy Formula every morning. This formula is a blend of stimulating adaptogenic herbs that promote sustained, natural energy. It helps to combat stress and fatigue as well as supports the adrenal glands. It's also caffeine-free!
During the fall and winter months, I drink the Immune Chai Tea most evenings and throughout the day I incorporate our Fire Formula into my dishes.
Fire Formula (aka Fire Cider) is a tasty combination of apple cider vinegar infused with spicy vegetables and herbs that help boost the immune system, support respiratory health, and stimulate digestion. I love vinegar and spicy things, so I'm always finding ways to include this in my diet. You can take this straight by the spoonful or shot-full as a daily health tonic, or added to salad dressings, Bloody Marys, marinades, soups, or over steamed vegetables. 
How do you blend everything together- your training in exercise science and earth-based wellness?
I have always been hungry for knowledge on optimal wellness and holistic living. I was obtaining one degree at a time which only covered one domain of health. A few degrees later, I had a few domains covered—but these weren't the whole picture. I realized that exercise or nutrition alone weren't going to make anyone "holistically well" and that there was something greater and more encompassing out there. So my education started very narrow and then expanded to account for many other areas of wellness.
I really resonate with herbal medicine and the nature component to health more than any of the other fields I have studied. All of my education fits somewhere, but I am now focusing on my herbal apothecary business. I plan on writing more blogs focusing on holistic lifestyle, herbal wisdom, and seasonal living. I think this will be a fulfilling way to combine all of my skills, training, and my writing talents.
You can keep an eye out for holiday deals and secret sales by signing up for the email newsletter/blog and/or follow on Facebook or Instagram @areteherbs
Lauren was kind enough to share all photos with us.