What will you be sipping to celebrate the Downton Abbey film? Whether you've seen the Crawley's on the big screen already, are still recapping on the seasons, or are new to Downton, be sure to be prepared with your favorite cuppa.
Despite the dichotomy of upstairs and downstairs life, both make time for tea- it's embedded in their culture. That's why, in anticipation of the Downton Abbey film, The Republic of Tea has blended three new limited edition teas. The flavors are inspired by the award-winning TV series' characters, bringing to life the drama, relationships and intriguing personalities of the Crawley household. 
Lord & Lady Grantham's Tea
The combination of traditional black tea and rich, fragrant spices makes a tea that is fit for royalty. Steep a pot and fill your house, manor or castle with the warm aromas of sweet cinnamon and cloves to welcome your most esteemed guests.
Violet & Mary's Tea
Life has its ups and downs, but you can always count on a good cup of tea. Ginger, orange bergamot mint and lemon thyme mingle in this strong-willed cup. Pull on the long gloves and take a sip of this sophisticated herbal tea that will soften even the sharpest of tongues.
The Bates' Tea
The traditional flavors of plum pudding – baked fruit and spices – are married with the virtuous flavor of vanilla in a fine black tea base. This heartfelt cup is perfect for high tea and is equally delicious paired with a hearty sandwich or sweet biscuits.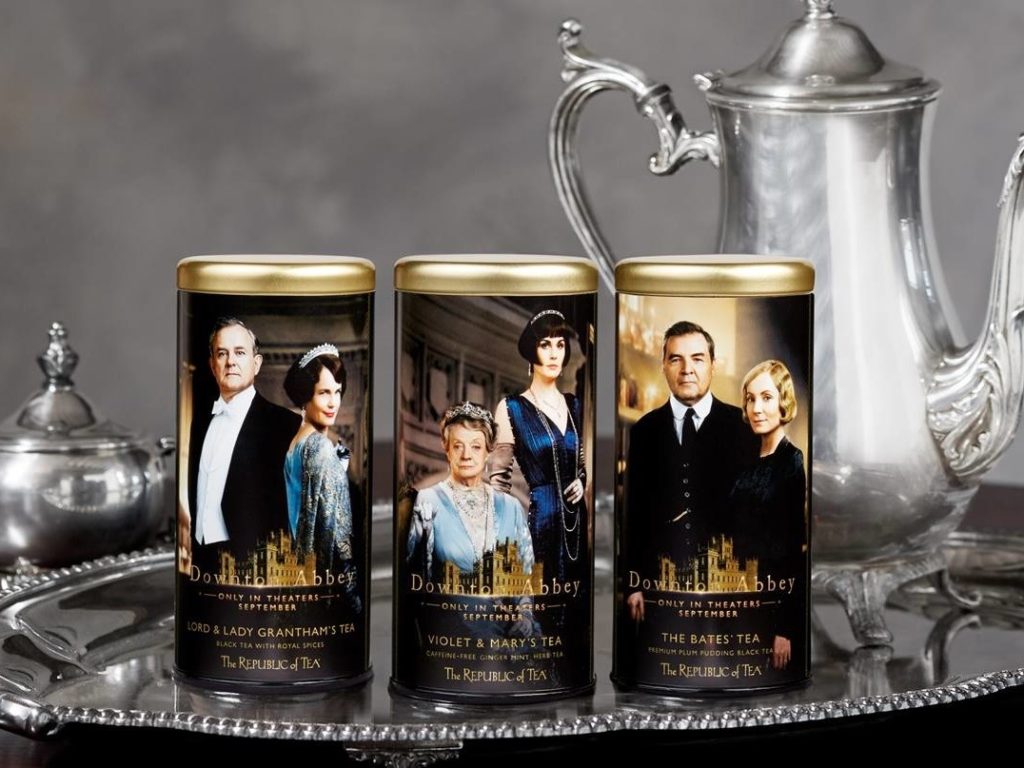 The Minister of Enlightenment, Kristina Richens Tucker, said:
"The Republic of Tea curated these blends for the Downton Abbey movie with the characters in mind. Each blend is meticulously curated for the delicious taste and to honor the personality of the beloved characters of Downton Abbey. The Violet and Mary's tea has zesty orange and ginger complemented with sweet blackberry leaves, so spicy and sweet, much like these two characters. The Bates Tea begins with a traditional premium black tea and layers in the sweetness of vanilla and berries to honor this beloved couple in the series and movie."
The tins are $12.50 each and are available at www.republicoftea.com and specialty retailers across the country.
Some recaps we found helpful:
Did you lose Downton Abbey in the British fog? Catch up here before the movie release
Downton Abbey: The Six-Season Refresher You Need Before Seeing the Film
Everything You Need To Remember Before Seeing The Downton Abbey Movie