You walk into the party, goggle-adorned top hat perched jauntily on your head. Your hostess greets you in a British accent and invites you to be seated at the tea table. The other guests are attired in suits, corsets or both and accented with clocks and gears, leather and lace. Some even have fully mechanical body parts. Tea is served while you discuss your latest invention with Lord Chester Tubberin, who in turn tells you about his visit to Madame Featherstone's Oddities Emporium. Across the room, you spy your arch nemesis, Doctor Stella D. Mahara. Your eyes lock over the brims of your teacups, and you know you'll duel at some point during the course of the afternoon.
Welcome to the mad, mad world of Steampunk.
Steam What?
Steampunk is a loosely-based term for a sub-genre of science fiction, fantasy, and role-play that provides an alternate history of steam-powered societies during the Industrial Revolution. The most popular eras include British Victorian and Edwardian, with the American Wild West and a completely imaginary post-apocalyptic future coming in a close second.
If you're still not sure what that means, think gears, goggles, mad scientists and inventors, floating airships and dirigibles. Writers like Jules Verne, H.G. Wells, and Mary Shelley were early influences on the genre and continue to inspire Steampunks today.
Even if you're not familiar with the concept of Steampunk, you've probably seen an example of it without realizing it. Those with a mind to look will find bits of Steampunk influence all over mainstream culture, from musicians like Florence and the Machine and Rush to television shows like "Doctor Who" and "Castle" to video games like BioShock and Dishonored.
It's Tea Time
So what does this have to do with tea? Well, few things are more sacred to the British than teatime, and the daily occurrence during the Victorian and Edwardian eras was a time for socializing, meeting new people, and sharing the latest gossip. Many things interesting and important happened over tea, and those who ascribe to the Steampunk aesthetic have fully embraced this idea with themed tea parties, tea wear, and specially packaged teas.
According to British musical artist Paul Alborough – otherwise known in the Steampunk community as the eccentric explorer Professor Elemental – tea is a vital component of Steampunk culture. "[Tea] is the grease in our cogs, the oil in our steamships, the caffiene in our overly active imaginations!" The Professor would know: the music video for his hilariously upbeat song "Cup of Brown Joy", a Steampunk-flavored hip-hop number proclaiming the wonders of tea, has close to two million views on YouTube. He even has his own special blend of tea available on his Professor Elemental website (although tea of any kind is acceptable in the Steampunk community).
While we're on the subject of buying tea, there's a Steampunk-inspired company out of Seattle, WA, known as B. Fuller's Mortar & Pestle, who sells teas and tisanes under the identity of an "artisanal modern apothecary." Their shop is referred to as a "laboritorium" and offers tastings of tea such as "Clockwork Orange" and "Surely You DiGest" along with classic offerings like Earl Grey and Jasmine. The proprietors can often be found at local events, dressed in Steampunk garb and offering you a cuppa.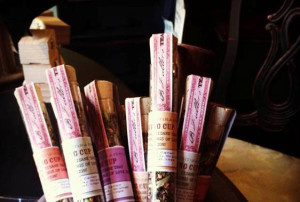 A Duel, My Good Chap!
Perhaps the most fascinating aspect of Steampunk tea culture is the "sport" of tea duelling, which has been popping up with increased regularity at conventions and other gatherings. Created by Steampunks Doctor Geof (Geof Banyard) and Major Thadeus Tinker (John Naylor), who also created the Honorable Association of Tea Duellists, tea duelling has become a popular way to settle disputes, entertain guests, and just have fun.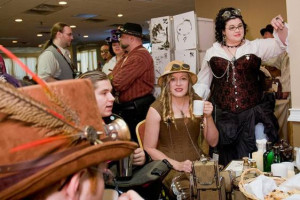 Don't worry, this is a civilized sport! No one is harmed in tea duelling (unless, of course, they are a biscuit).
To begin, the two duellists sit across from one another at a table; each has a cup of tea prepared to their liking, as well as a cookie (what the British would call a "biscuit"). At the command of the presiding Tiffin Mistress or Master – who must be registered with the Association of Tea Duellists in order for the match to be official – the duellists simultaneously dunk their cookies into their tea for a total of five seconds before removing them. The goal, then, is to get a clean bite, or "nom," of the cookie before it crumbles, with the person who noms last declared the winner. If the cookie crumbles before it reaches your mouth, it's considered an automatic loss.
For more on tea duelling and the full set of rules, visit the Association of Tea Duellists website.
Get 'Punked
Are you intrigued yet? Ready to don your goggles and join your friends for a pot of Earl Grey with cream? There are a number of ways you can have fun with Steampunk.
Find a Local Event
There's probably a Steampunk society near you, and they probably host events and tea parties. Just do an internet search for "Your Town" and "Steampunk society" and you're sure to find something. If you feel nervous about what you should do, say, or wear to an event, just email the event organizers, who are often more than happy to share their love and knowledge of the genre.
Attend a Con
Steampunk conventions are a great place to get a big taste of all the different Steampunk flavors, all at once. Check out the Steampunk Word's Fair in Piscataway, NJ, or look through this list from the Steampunk Illumination Society to find a con closer to home. While you're enjoying the convention, keep an eye out for the American Tea Duelling Society, which holds events throughout the country. And, of course, don't forget to grab a cup of tea from one of the vendors while you're there.
Throw Your Own Steampunk Tea Party
Serve tea with a twist! For tableware and decor, think Victorian tea party with elements of metal, leather, and wood. Have guests dress up in late 1800s-inspired dresses and suits accented with hats, goggles, pocket watches, and gears. You may wish to grab a copy of "Steampunk Tea Party: Cakes & Toffees to Jams & Teas: 30 Neo-Victorian Steampunk Recipes from Far-Flung Galaxies, Underwater Worlds, & Airborne Excursions," by Jema "Emilly Ladybird" Hewitt for ideas on what to serve. Organize an unofficial tea duelling competition for your guests.
Whether you want to get fully 'Punked out or just drink tea in a top hat, Steampunk is a wide, varied, and fun world full of intrigue, mystery, and – naturally – tea.