During the German unrest in 1938, young Liesel Meminger (played by Sophie Nélisse) goes to live with a foster family, because her Communist mother fears for her safety. There it is discovered by all that Liesel cannot read, and her foster father, Hans (Geoffrey Rush), begins to teach her, using a book Liesel found at her brother's grave site.
Also during this time, she befriends the neighbor's son, Rudy (Nico Liersch), who becomes her one and only confidant, outside of her new family. Soon, however, her foster parents take in Max, the son of a man whose life Hans saved in WWI. They scramble to hide Max from the Nazi party, and he quickly becomes ill from the chill of the basement. Liesel finds in Max a new friend, and reads to him from her book every night, aiding in his recovery.
The war soon begins to destroy everything that Liesel loves, taking the lives of those around her. Even Max has disappeared, and she fears he has been lost in one of the concentration camps. The only thing helping to keep her grounded is the written word contained in the books she holds so dear.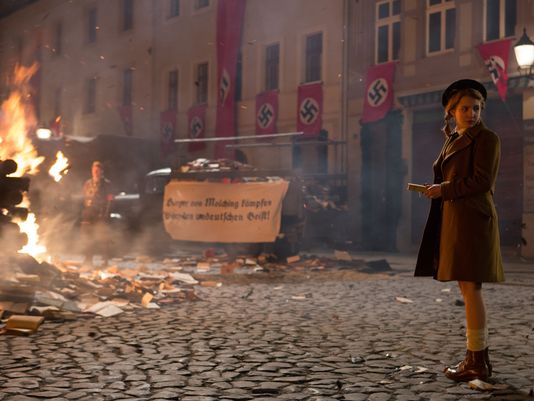 This is the story of a young girl's courage in the face of war and violence, so it seems logical that our tea pairings should revolve around courage. One of Adagio Teas' signature blends, Courage, fits the bill. It's a blend of black and green teas, with notes of raspberry, ginger, orange peel and cinnamon. Missintegritea's Love & Courage is a mellow blend of borage and rose, perfect for moments of reflection, which you may need after this film is over. If you're not in the mood to drink your tea, how about some in chocolate? Oma's Courage blend features Chrysanthemum and sencha green tea blended in 61% dark chocolate, ideal for nibbling.
Visit the official movie site from Twentieth Century Fox Film Corporation.