Spaceballs is a film many consider a cult classic. The story follows Lone Star (Bill Pullman) and his furry sidekick Barf (John Candy), as they wander the galaxy in a flying RV, trying to avoid the wrath of Pizza the Hutt. Princess Vespa (Daphne Zuniga), heir to the throne of the planet Druidia, is kidnapped by notoriously evil Spaceballs, led by Dark Helmet (Rick Moranis). Helmet demands a ransom – the release of the princess in exchange for all the air on Druidia. Vespa's father agrees, but then hires Lone Star to intercept the Spaceballs and rescue his beloved daughter, offering a large sum of money as incentive.
Once Vespa is saved, Lone Star immediately regrets his decision to find her. She annoys him with her spoiled high-born attitude. Vespa similarly dislikes Lone Star, thinking him crude and in a social class far beneath her own. Opposites always attract though, and the two begin to fall for one another, much to the chagrin of Dot Matrix (voiced by Joan Rivers), Princess Vespa's trusty mechanical handmaiden. Dot's main job is to protect Vespa's innocence, and she'll stop at nothing to do just that.
Lone Star and Barf, with Princess Vespa and Dot Matrix in tow, set off to stop Helmet from taking Druidia's air, and destroy the Spaceballs once and for all. On their journey, they meet Yogurt (Mel Brooks), old mystic of the Schwartz, an ancient power only certain individuals possess. Lone Star learns he has this power, and Yogurt begins to train him in the art.
Soon they're off with their new-found knowledge, ready to wage war on the Spaceballs. Dark Helmet is quickly defeated, and Vespa is returned safely to her father on Druidia, where she is to marry the sleepy Prince Valium (Jim J. Bullock) against her will. Lone Star is informed of his own royal blood by Yogurt, and once again rescues Vespa, this time from the unwanted marriage.
From the beginning to the end, this film is full of slapstick comedy and movie parodies. If you need a good laugh, then this is the movie for you!
There are a few perfect teas to enjoy while watching this film. Nelson's Tea, LLC has one conveniently named Out of this World Orange, a black tea with orange peel, cinnamon and fruit flavors. Its spicy warmth is ideal for relaxing and watching a movie. Wystone's World Teas offers Cloud Catcher, an herbal blend of apple pieces, kiwi, sour cherries, cranberry slices & coconut flakes. It has vibrant flavors that will pair well with the crazy characters in the film. And finally, Jenier World of Teas has a Classic Royal Tea Blend, a combination of Darjeeling, Assam and Ceylon teas boasting a bright, toasted flavor – just the tea for the kings of humor!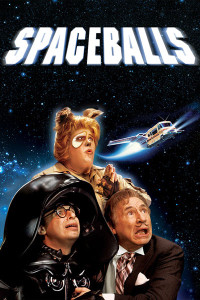 Visit MGM's official site for more on Spaceballs.