Tea blended with other botanicals is a topic worthy of entire publications, but a few easy-to-learn techniques can create a fascinating array of beverages.
Fresh cold infusions: 
For cold infusions we can use endless combinations of fresh or dried herbs, spices, fruits and even vegetables in cold or room temperature water. A sweetener would often be added and perhaps a small amount of a sparkling beverage such as ginger ale, seltzer or champagne to finish the drink.
The best drinks use ingredients that are fresh and in season:
• Variations on Moroccan Mint: Green tea with spearmint, peppermint, lemon myrtle and anise hyssop. Sweeten with simple syrup made from white sugar.
• Keemun with cranberry, clove and star anise. Sweeten with a simple syrup made with light brown or raw sugar.
• Use juice instead of water for slow cold steeping. Try Darjeeling in apple juice with fresh rosemary, marjoram and mixed berries.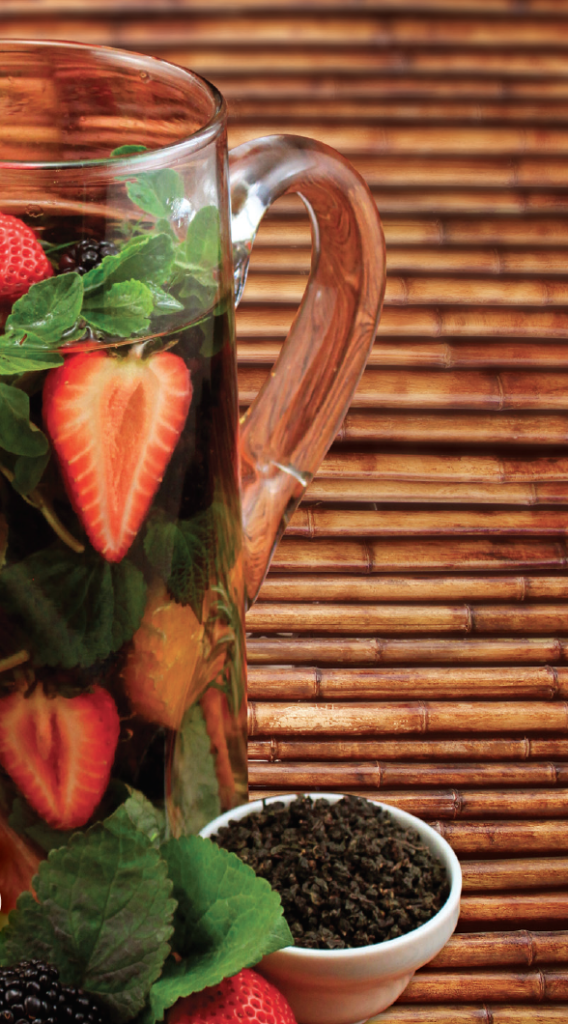 Stirred Drinks: 
In stirred drinks, steeped tea is blended with prepared syrups, fresh fruits, herbs, vegetables and/or juices over ice. Add alcohol for a Tea Sangria, or ice cream, frozen yogurt or sorbet for a tea float.
Some ideas for stirred refreshers include:
• Lapsang Souchong (double strength), tomato juice, lime juice, basil and chili tea syrup. Add a tea salt rim and a splash of vodka or gin.
• Oolong tea (triple strength) with peach juice, ginger simple syrup and club soda
• Green tea (triple strength) with white grape juice and a simple syrup with green tea, chile, and lime.
Shaken Drinks: 
Add ice to a cocktail shaker, your chosen double or triple strength ice tea, selected fruit purees or muddled fruits, a splash of cream and optionally (depending on the sweetness of the chosen fruits) additional simple syrups. Alcohol can also be added.
Shake up some fun in your own personal way; consider the following to get you started:
• Green tea with passion fruit and peach purees
• Black tea with Keemun Spiced Plum simple syrup and blackberry puree
• Oolong tea with apricot puree and ginger tea syrup.

Blender Drinks: 
Blender drinks are thick and satisfying, getting body from fresh or frozen fruit chunks; ice cubes made from water, iced tea or juices; ice cream or frozen yogurt. The tea component can be concentrated iced tea, tea leaves infused into milk, tea ice cream, finely ground tea (such as matcha) added directly and/or tea simple syrups.
Blender possibilities could include:
• A tea frappe of Earl Grey iced tea (triple strength), chocolate ice cream and orange juice.
• A tea lassi of black tea, frozen grapes and bananas, yogurt and milk (recipe follows)
• Masala chai (triple strength)  blended with ice cubes, coconut milk and tropical fruits
Red Grape and Black Tea Lassi
Sharone Artsi and is included in the book Culinary Tea by Gold and Stern. Chef Artsi's passion is healthy, fresh cuisine, so this naturally led him towards the use of tea in his recipes.
Serves 2
1.5 cups milk
2 tablespoons loose leaf Nilgiri, Assam or other full bodied black tea leaves
1 cup plain Greek style yogurt
3 tablespoons granulated sugar
1 cup red grapes, frozen
1/2 banana sliced and frozen
In a medium saucepan, combine the milk and tea leaves over medium high heat. As soon as the mixture begins to bubble, remove from the heat. Let steep, covered for 10 to 15 minutes, then strain and discard the leaves. Chill.
In a blender, combine the infused, chilled milk, yogurt, sugar, grapes and banana. Blend until smooth. Pour into 2 glasses and serve immediately.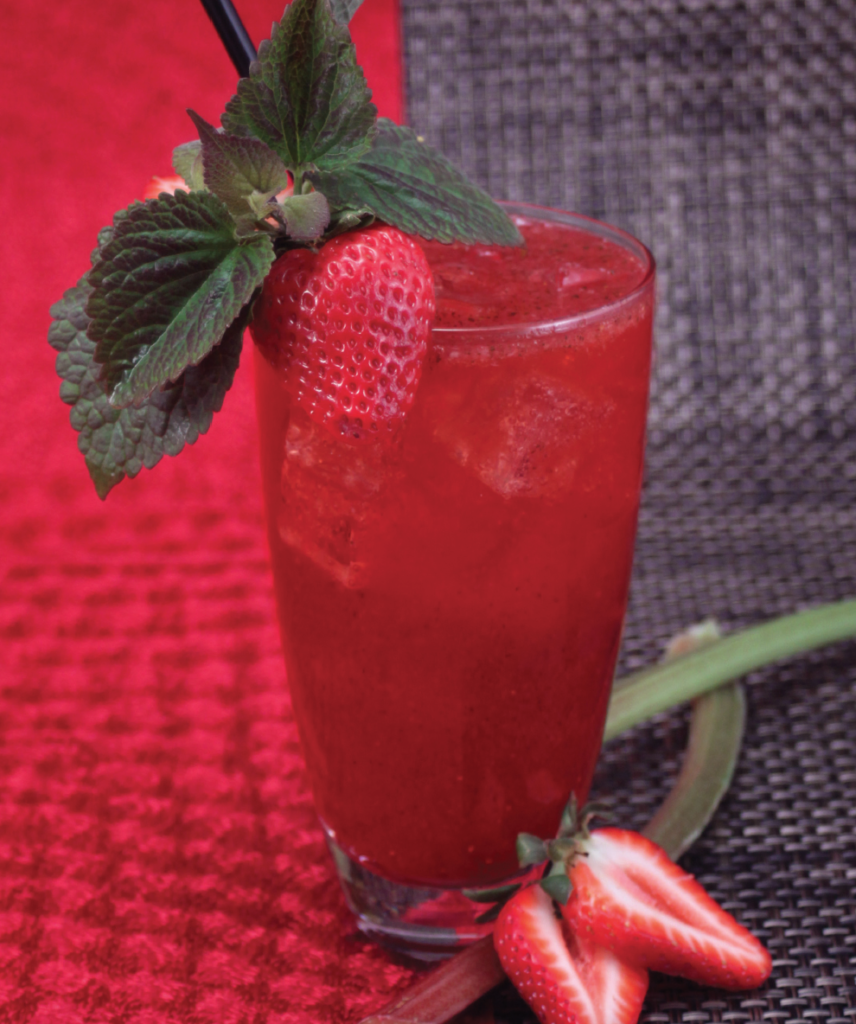 Strawberry Rhubarb Nepali Delight
This refreshing drink, inspired by the classic summer pie, can be served well chilled in a cocktail glass or over ice in a highball. If desired, a splash of Cachacha, rum or tequila would be a fun addition.
2 ounces double strength Nepalese black tea
2 ounces strawberry and anise hyssop puree
1 ounce rhubarb simple syrup
Half of a lime
orange bitters
seltzer
strawberry or lime slice to garnish
Combine Nepalese tea, strawberry juice and simple syrup with ice in a cocktail shaker. Squeeze in lime and add 2 or 3 dashes of orange bitters. Shake well and strain over fresh ice into a highball glass. Finish with a large splash of seltzer and garnish with a lime wedge, sprig of anise hyssop or a strawberry. For a lighter, more thirst quenching drink, the ratio of seltzer can be increased.
Note: Double strength tea is made by steeping your tea leaves for the same time and temperature that you would normally use, but with twice the amount of tea leaves. Double strength teas are very handy to have for blending with other ingredients so that the flavors are not lost behind secondary ingredients and ice.
If you do not have any Nepalese black tea to use, for your own enjoyment with this recipe and general sipping, I strongly recommend that you find some. If not available however, this recipe is lovely made with a good quality Darjeeling tea.
Rhubarb Simple Syrup
1 cup sugar
1.5 cups water
1 cup coarsely chopped rhubarb
1 wedge lime
Place sugar, water and rhubarb in a small saucepan and squeeze in the lime. Simmer for 20 to 30 minutes or until very tender. Strain through a fine sieve, pressing firmly on the solids to extract all of the syrup. Discard the solids and set syrup aside to cool completely.
Strawberry and Anise Hyssop Puree
2 cups very ripe strawberries 
1 large handful of anise hyssop
Rhubarb simple syrup 
Puree strawberries and anise hyssop, using just enough of the rhubarb simple syrup to get the blender to catch. Strain, pressing firmly on the solids with a ladle or the back of a spoon, to extract all of the juice. Discard the solids.
Note: a blend of your favorite berries may be used instead of strawberries if desired. Also, if good quality fresh berries are not available, frozen, defrosted berries may be substituted. If anise hyssop is not available, feel free to substitute fresh mint, basil, or add a teaspoon of anise seed to the Rhubarb Simple syrup recipe while it is simmering.