As an editor, it's not always easy to reply to every email that pours in immediately but one email, in particular, stuck out recently. A woman named Gloria Clay reached out with a very simple request: to share her recipe with our subscribers. I began to read it like any other email and I quickly realized it was reminiscent of a family recipe using black tea … a recipe that sparked my personal tea journey. So, I thought maybe you would appreciate it too.
The photo above is The Daily Tea's attempt at Gloria's recipe, so please have your turn at the recipe, shared below.
Enjoy and cheers all!
---
My husband Adam and I enjoy these scones on the weekends as a treat. I fell upon this recipe by accident one beautiful Saturday morning. I got up and prepared our breakfast: orange pekoe tea, a sliced a navel orange, and home-made biscuits. And as I was looking at the spread as a whole, it dawned on me that I could combine these ingredients. We loved the tea, the orange, and biscuits so why not add all the ingredients in a recipe? Thus, my vegan orange pekoe tea scones were born.
Vegan Orange Pekoe Tea Scones
2 cups of self-rising flour (

for each cup of all-purpose flour, add 1 1/2 teaspoons of baking powder and 1/4 teaspoon of salt)

3 Tbsp of sugar

1 cup of cold coconut milk (whipped until creamy)

1/3 cup of cold orange Pekoe tea

¾ tsp of fresh orange juice

1 tsp of orange zest
Orange Pekoe Glaze
1 cup of powdered sugar

1 tsp of almond milk

½ tsp of orange juice

¼ tsp of cold orange Pekoe tea
Directions
Preheat oven to 350 degrees F.

In a medium mixing bowl, mix in all in all ingredients except for whipping cream.

Stir in whipping cream and whip until well combined.

Place dough mixture on floured cutting board and fold gently 5 or 6 times until mixture is a nice texture and not sticking to your fingers. If the dough is sticking, just add a little more flour.

Shape dough into a 7-inch circle and cut it like pizza slices.  All slices should be about 1 inch thick.

Bake in a greased pan for 15 to 20 minutes or until golden brown.

Let cool for 5 minutes before adding the glaze. Serve piping hot and enjoy
For the Glaze
Pour all ingredients into a bowl and mix well. If it's to thin add more sugar if to thick add more almond milk.

Pour over scones and enjoy.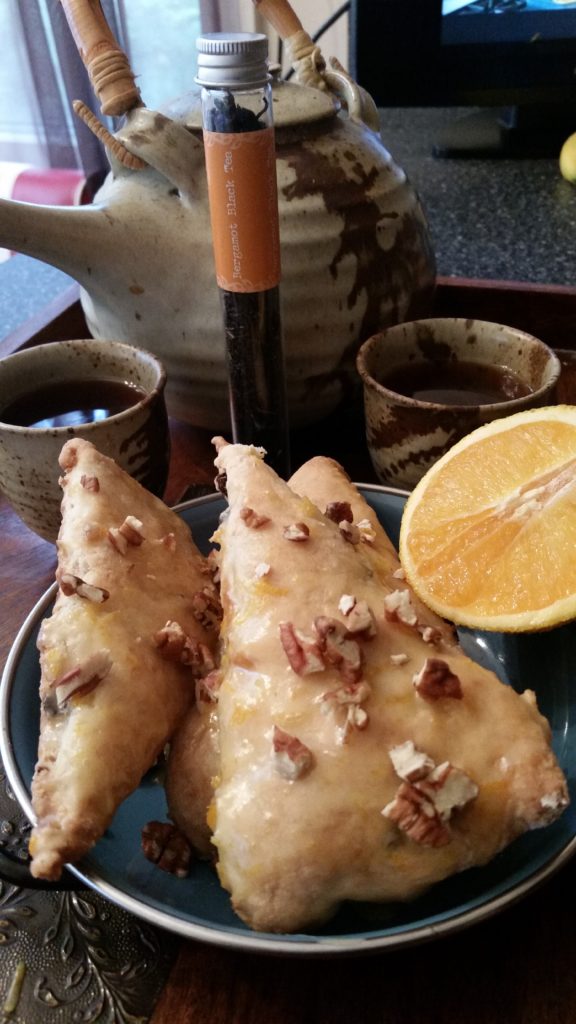 About Gloria Clay:
She's the oldest of three siblings, born in Bennettsville, SC. She is married with grown children and grandchildren. She won Vegan Outreach Mac Down Competition in Columbia, SC on September 10, 2017, and was the only entry who was not a chef in the competition (after only being vegan for 2 years). She enjoys spending time with her family, cooking, reading, and drawing.
Fun fact: "I can cook and bake about anything but can't seem to make Jell-O".