Warming spices meet creamy textures and sweet notes for a fall breakfast treat…
Leaves seem to glow with their amber hues in early fall morning light. A quiet symphony is shared as autumn air rushes through their crisp texture, offering a hushed rustling sound. Needless to say, one may want to linger outdoors at this time of year and savor the moments before the hustle and bustle of the day begins. So I opt for a tea infused morning meal that sends me outside in mere minutes and away from the kitchen counter.
The Masala Chai Tea Smoothie captures the transition from summer to fall, that click between seasons. We hold onto delights of warmer months with the custard-like creamy texture from the Greek yogurt and sweetness of the honey and banana, while the masala chai spices send us skipping into fall. And the recipe couldn't be simpler. Greek yogurt, frozen bananas, honey, masala chai tea ice cubes and just a pinch of cinnamon are blended into creamy perfection in seconds. It just requires a bit of pre-slumber prep so that you can wake up to a treat.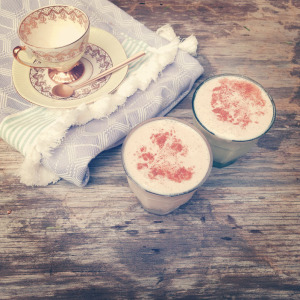 Masala chai tea is heartily steeped for a concentrated cup to ensure that their warming spice flavors are able to shine amongst bolder tastes tucked within the recipe. While a traditional black tea blended with cloves, cinnamon, cardamom, ginger, nutmeg and other spices is a classic masala chai choice, experiment with a variety of chai tea blends filling tea shop tins (fennel chai is a favorite, as well as chocolate and coconut). Consider this recipe a base for experimentation. Although, try it in its purest form once to feel out the flavor profile before adding the contents of your spice cabinet.
After the tea has cooled, the steep is frozen into glistening spiced iced gems. When the chilled tea cubes meet the creamy yogurt and banana in the blender, they lighten the texture with chai infused ice crystals. Once you've filled your glass, a sprinkle of cinnamon adds a rich fall hue and gives a glimmer of what's to come with the spices hidden within. Whether with a sip, a spoon or a straw, savor this tea infused smoothie under a morning fall sky. Consider it the cure for slow-moving mornings and the meal that lingers between seasons, all while being infused with your first cup of tea.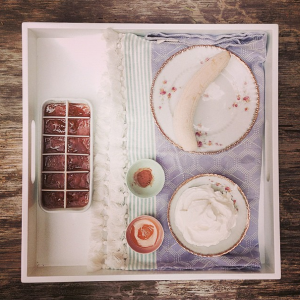 Masala Chai Tea Smoothie
Makes approximately 1 ½ cups
Ingredients:
½ cup water
1 tablespoon masala chai tea
1 banana, peeled and frozen
1 cup full-fat Greek yogurt
2 teaspoons honey
1 pinch ground cinnamon (for garnish)
Directions:
Heat ½ cup of water to a boil. Steep 1 tablespoon of masala chai tea in the hot water for 5 minutes. Strain leaves and let the tea cool. Pour the tea into an ice cube tray and freeze until solid. Peel banana and wrap in aluminum foil or place in airtight container and freeze (overnight recommended).
Remove banana and ice cubes from freezer and defrost for 2 minutes. Break banana in half. Add Greek yogurt, honey, banana halves and masala chai tea ice cubes to the blender, and blend until smooth. Pour into a large glass or two small glasses and top with a pinch of cinnamon. Serve immediately for an icier texture or let sit for a thinner spoonful or sip.