Long lines stretch out onto sidewalks, eager patrons ready to plop down cash in exchange for a cool treat to help them cope with summer's scorching heat. Clusters of people mill around, comparing their choices and trading tastes, figuring out what to get the next time they stop in. A buzz fills the air as folks pause to refuel and refresh.
But they're not stopping for ice cream, or dropping by the lemonade stand. When they're in need of a break that's as fun as it is fresh, those in the know reach for bubble tea, that sweet, sticky, frothy beverage that's slurped through giant straws. Part dessert and part beverage, bubble tea (also called boba, after the candy-like tapioca pearls that are often added) is an almost irresistible combination to look at—and how it delivers an explosion of flavor that's as entertaining to drink as it is to look at. How can you not love something that's both plaything and thirst quencher?
"At bubble tea shops, young people are ordering their tea the way coffee aficionados order their Starbucks," says Julia Montague, communications specialist for Tourism Richmond. We've just taken a seat at Zephyr Tea House in Richmond, British Columbia, manuvering our massive pink straws into a shared glass of taro milk tea. A burst of something that can only be likened to a gummy candy milkshake hits our palates, an energizing, refreshing encounter that brings us right back to childhood.
Enter a bubble tea shop and you have to be prepared to do some work; there's a lot of decisions to make. Your first decision is the type of tea; black, green, milk, or herbal? Each category has some 30 varieties, from kiwi black to mango green, pudding milk to sesame and hazelnut milk. Next, choose the bubbles you want: pearl, otherwise known as tapioca balls; coconut jelly; pudding; grass jelly; or coffee jelly, to name just a few. Finally, do you want your tea hot or cold?
Having slurped down the taro almost immediately, we order a tall glass of Zephyr milk tea next, the house special that comes with coffee jelly, black sugar, creamer, and black tea, served with whipped cream on the top. The mocha-colored drink is punctuated by balls of black jelly, delivering a whammy of sweetness-one that almost demands a food accompaniment.
Bubble tea made its inauspicious first appearance in Taiwan in the 1980s, when some creative food entrepreneur mixed the light taste of tea with fruit flavoring, shaking the concoction up to even out the flavors and naming it for the bubbles that would form when the mixture was combined. Later, someone reinforced the name by adding tapioca balls to the drink, as well as a large straw through which to suck them up.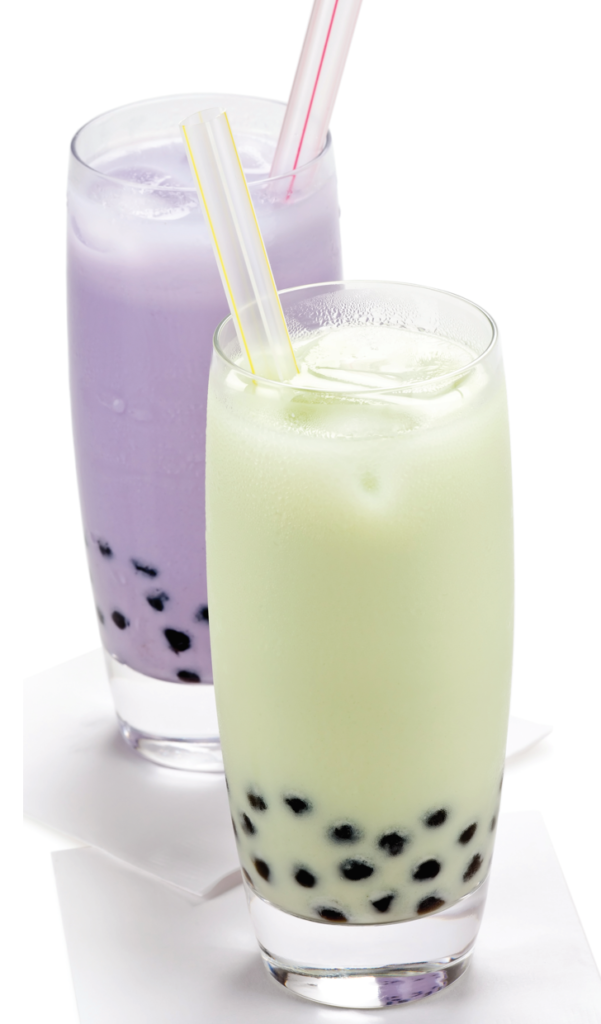 The quirky beverage quickly became a hit, particularly with teens. Bubble tea shops started popping up all over Asia and in parts of North America heavily populated by Asian immigrants, like Richmond. In the city's night markets, malls, and restaurants, you don't have to search hard to find bubble tea. At the Pearl Castle Café, a restaurant not far from Zephyr, the bubble tea menu features an entire page of listings for each of the categories: black, green, milk and green milk tea. With innovative flavors like green apple Calpis green tea, tangerine green tea with dried plum, caramel green milk tea, and wheat germ green milk tea, it's hard to narrow down. But no matter what you choose, it's hard to go wrong.
Our apple Calpis green tea arrives looking like a piece of art. A layer of beer-like foam sits on the top, the drink's bright green hue contrasted with the black tapioca pearls that cluster at the bottom. For contrast, we try hot jasmine green tea next; its soothing, subtle floral flavor is smoothed even more with sweetened condensed milk.
We exit the restaurant fired up and ready to take on the day, a heady mixture of calories and sugar coursing through us, courtesy of four tall glasses of bubble tea. One thing's for sure: this is no end-of-the- day soother. Bubble tea is a quick way to get energized, refreshed, caffeinated, and sugared up. Wherever you are, bubble tea is likely just around the corner. Bubble tea chains and specialty shops are opening up in most major metropolitan areas, and even smaller towns often boast a restaurant or two with bubble tea on the menu; many Asian restaurants have added at least one kind of bubble tea alongside their regular green and black varieties. The next time you're out, take a chance and give it a try! Whether you're young or just young at heart, it's a playful drink that's easy to surrender to.